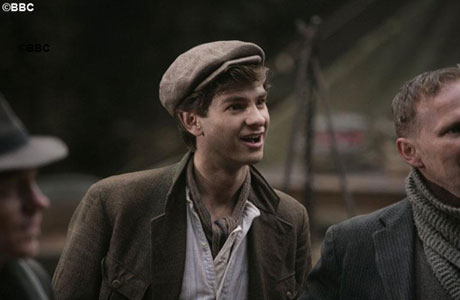 Long before he slithered into that Lycra suit, Amazing Spider-Man star Andrew Garfield caught the attention of Doctor Who fans with his appearances in two episodes back in 2007. And the soon-to-be household name recently spoke to Anglophenia's Tom Brook about his part on the beloved sci-fi series.
"I played a small part in two episodes [as] Frank," he said, speaking about the Season Three episodes "Daleks in Manhattan" and "Evolution of the Daleks."
"They were set in the Great Depression in New York, and I had a Southern accent for some reason. I forget why…. I emigrated to New York, I think (laughs)."
Garfield also gives high marks to former Time Lord David Tennant and a shout-out to his longtime friend Matt Smith, the current Doctor.
Watch the interview here:
Also: watch the rest of our interview with Andrew, in which he discusses his American-British dual citizenship and taking on the iconic part of Spidey.
And check out what John Barrowman has to say about Andrew's Lycra suit.
Finally, if you liked those Dalek episodes and happen to be in Austin, Texas this Saturday, check out BBC Home Entertainment, Ain't It Cool News, and Alamo Drafthouse's screening of Resurrection of the Daleks from the Peter Davison/Fifth Doctor era. The screening takes place at the Alamo Slaughter Lane theater at 1 pm on June 30.
When you saw Andrew on Doctor Who, did you foresee his career success? Tell us below:
Read More
Filed Under: