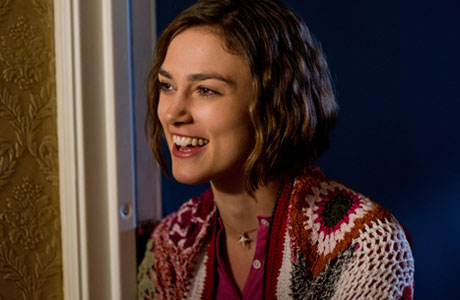 For an actress accustomed to doing costume dramas, Keira Knightley found it a relief playing a modern woman in her new film Seeking A Friend for the End of the World (out on June 22) because she didn't have to spend time getting into period outfits.
"It was wonderful to only have to go in about half an hour before we started shooting as opposed to two and a half hours, and you know, not have to worry about the dresses," she says. "It was great."
The actress has been enthusiastically promoting the film which, although a romantic comedy, has a dark apocalyptic premise. It's set in New York, and it begins with the pronouncement that a gigantic asteroid is heading towards the planet and that life will come to an end in three weeks time.
It's against this backdrop that Knightley's character forges a relationship with her neighbor, a dull insurance salesman played by Steve Carell. Together they embark on a road trip to tie up loose ends, and they end up falling for one another.
The woman Knightley plays is perky and impulsive, a character some might find endearing, but others may think is irritating.
Knightley says: "I loved her. She's on a different planet. I think she's one of those people that works on quite a different plane, but she's incredibly positive and somebody who can absolutely say: 'This moment is great. You know, I'm really loving it right now.'"
In early reviews critics have had different views on Keira Knightley's performance — some like it, some don't. But nobody can deny that her solid track record includes some very fine portrayals.
But the confidence she displays on screen often masks a deep performance anxiety.
"I suffer from stage fright really, really badly," she says.
She has developed ways of managing her anxiety. "Research has been a big savior for me as far as getting over nerves, really, really, really knowing the character, knowing the subject," she says.
Later this year Knightley will be seen in a major role playing the title character in a new adaptation of Tolstoy's Anna Karenina starring Jude Law.
The actress claims there's not much planning that goes into her career. "I'd love to be more strategic, but I can't be because I don't know what I'll be interested in in three months' time, let alone a year's time, I need to do things that I really believe in," she says.
Are you interested in seeing Keira Knightley's latest flick?
Read More
Filed Under: