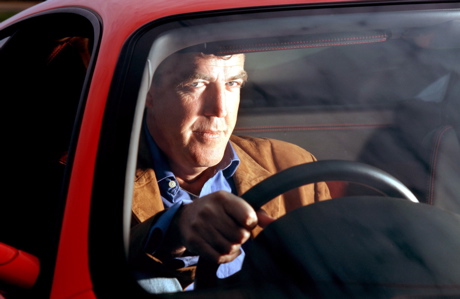 No one's ever called Jeremy Clarkson boring. But how long does it take for Jezza himself to become bored, and, specifically, how long does it take him to become bored while he's behind the wheel of a car?  Find out the answer on next week's "lost" episode of Top Gear, airing Monday July 2, 9p/8c. (Spoiler alert: it takes Clarkson a long time to become bored behind the wheel of a car.) And speaking of boring, the boys also talk about that most dreaded aspects of driving, namely parking:
There's no way to look at these clips and not be surprised at how much younger the boys look, is there?
• Also on next week's show: even though Boris Johnson is now perhaps more well known for his support of urban bicycling, he showed up to be the Star in a Reasonably Priced Car. His Top Gear appearance came before he was elected London's mayor in 2008. And we're not saying there's a cause-and-effect relationship here, but you never know…
• Speaking of bicycles, the two-wheeled invention recently received strong praise from none other than Jeremy Clarkson himself. Though he's also been known for his harsh criticism of bicyclists – he once famously said that cyclists "deserve" to be cut up by cars while they ride on their "silly Victorian distractions," Clarkson clearly believes that there's a real place for bikes in urban transit and says that if used and planned for correctly, they make cities more livable.
In a recent article in the London Sunday Times, Clarkson praised Copenhagen's bike culture as "fan-bleeding-tastic."
"Best of all," he writes, "there are no bloody cars cluttering the place up. Almost everyone goes almost everywhere on a bicycle."
Does this really sound like Jeremy Clarkson? Just understand that he attributes the Danish capital city's success to the fact that cars and bikes have separate roads.
"Now I know that sounds like the ninth circle of hell, but that's because you live in Britain, where cars and bikes share the road space," he continues. "This cannot and does not work. … As a result London is currently hosting an undeclared war. I am constantly irritated by cyclists and I'm sure they're constantly irritated by me."
"City fathers have to choose. Cars or bicycles. And in Copenhagen they've gone for the bike."
• We told you last week that Top Gear Live set a record in Durban for doing a double loop-the-loop, but here's some more fun South African video you're sure to enjoy. Watch driver Sam Bird during his drive of a Mercedes Benz B-class and and SLK AMG:
Read More
Filed Under: