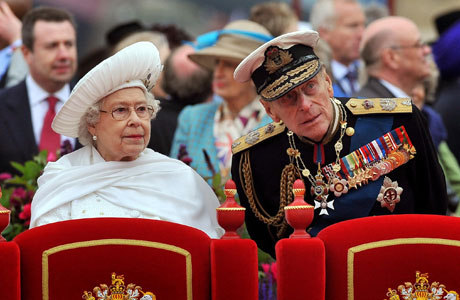 What did this Brooklyn-based expat do for the Diamond Jubilee? Went to Ikea and bought a shelf, since you ask. But not before I baked pancakes in the shape of corgis and clicked the heels of my diamante Union Jack stilettos while chanting, "There's no place like home. Then again, at least it's not raining here."
Later, while my countrymen munched Victoria sponge and strained their drenched necks at the edge of the Thames to see what Beatrice and Eugenie had on their heads, I dunked McVities Digestives into a mug of Yorkshire Gold and dipped into the Jubilee coverage.
These are my highlights, as seen from a laptop in a far-off land:
The Thames flotilla
Poor Queen – it rained on her parade. But that didn't stop her subjects from plastering themselves in red, white and blue and donning cagoules to watch the 1,000-vessel water pageant on Sunday. The largest barge was reserved for royalty, who smiled toothily and waved just like it said they should in the handbook. I hope at least one of them had a hot toddy in a hipflask.
The Diamond Jubilee concert
Ten thousand ticket holders lined The Mall while millions tuned in at home to watch antique rock stars like Macca and Elton John pretend that punk never happened. All good fun, especially if you didn't actually have to be there. Okay, yes, the ex-Beatle sounded like he'd swallowed a jug of tone-deaf kittens and E.J.'s pink jacket only partially managed to distract us from his flaky vocal. On the plus side, the Queen turned up fashionably late, Lenny Henry told Rolf Harris to shut up, and Madness played "Our House" from the roof of Buckingham Palace.
http://www.youtube.com/watch?v=Lki3VMPy2RE
Fearne Cotton keeping it real
BBC presenter Fearne Cotton did a mildly snarky segment with singer Paloma Faith. The pair's tongue in cheek perusal of Jubilee paraphernalia culminated with Paloma holding up a paper bag with the Queen's face on it and issuing instructions: "If you've eaten too much then you can just vomit into a Jubilee sick bag." Remember, it's not treason if it's hilarious.
http://www.youtube.com/watch?v=ImoDL5DkAWM
What was your most memorable Jubilee moment?
Read More
Filed Under: