The Wanted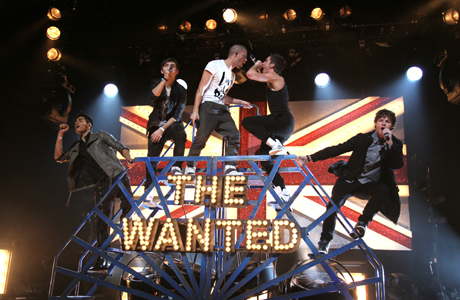 Style: Gritty Pop
Members: Max George, Siva Kaneswaran, Jay McGuiness, Tom Parker, Nathan Sykes
What's the Story: The British-Irish group has a randy side to them with their songs peppered with sexual innuendos that their young fan-base may not quite get.
You May Know this Line: "I'm glad you came."
Video Pick: "Glad You Came"
In the Headlines: The Wanted Make a Film Cameo … (We're seeing a theme here?) (Via: PopCrush)
In Their Own Words: "I think we were initially branded as a boy band because that is indeed what we technically are. And I think the view changed slightly because people realized as much as a lot of young girls like our songs, we're not just tailoring it to those people." – Jay McGuiness, AOL
On-camera Interview: First interview in the U.S.!
U.K. Tour Schedule: Kick off June 9 at Wembley Stadium in London, England. 
For Fans Who Like: One Direction, Overtone (E!'s "Mrs. Eastwood and Company"); Sum 41
Recommended Track: "Chasing the Sun"
NEXT: Florence and the Machine 
Read More
Filed Under: