1. Damien Hirst exhibit at the Tate Modern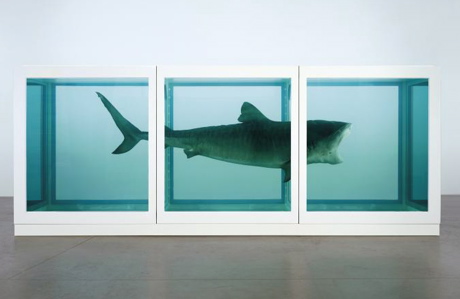 Damien Hirst is believed to be the richest artist not only in Britain but on the planet. His "dot" paintings, animals-in-formaldehyde sculptures – and his interview comments – have been creating controversy for two decades, and London's Tate Modern is mounting the first at a major UK retrospective of his work. It's all there, the famous shark, aka "The Physical Impossibility of Death in the Mind of Someone Living" (photo above), along with the spin paintings and the cow cut in two. Take a tour of the show with Hirst himself, joined by exhibit curator Ann Gallagher, courtesy of the Tate and the Guardian:
Until last week, you could even see "For the Love of God," Hirst's famous sculpture, a skull encrusted with literally millions of dollars worth of diamonds – which might be eerily appropriate for the Diamond Jubilee.

The exhibition is a survey of Hirst's career, but if you'd like to see what he's up to right now, take a look at the live feed from his studio.
Read More
Filed Under: