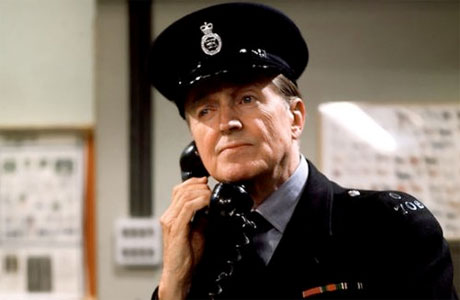 On Sunday, August 19 (10/9c), BBC America premieres Copper, a gritty crime show set in 1860s New York, starring Tom Weston-Jones. To celebrate this, and also because it would be criminal to ignore them, here are five tales of crime and punishment from the golden years of British TV.
Dixon of Dock Green
Evening all! Now, not every cop show has to be about the most awful crimes humanity can muster up. Jack Warner played George Dixon as the friendly bobby on the beat in a East End police station, dealing with all manner of petty larceny with a warm manner and a firm grip on the collar of whichever rogue had been caught pilfering the petty cash tin at the local pub. And if you think that sounds a little drab for a popular police drama, consider this: Dixon of Dock Green ran for 21 years. TWENTY-ONE! That's older than Justin Beiber.
Z Cars
http://www.youtube.com/watch?v=0MZ5sAJo0v0
Meanwhile, a world away from the patrician warmth of Dock Green, Z Cars was an attempt to reflect a more realistic view of the battle against crime. In 1962 this meant showing people from areas of England which were not London, taking in regional accents (the series is based in a fictitious town modelled closely on Kirkby, just outside Liverpool), and showing figures of authority behaving in an irritable manner. It arrived in the same year the Beatles released "Love Me Do," and two years after Coronation Street showed that British society would not grind to a halt if commoners from the provinces were allowed to appear on TV talking (and acting) like themselves. Naturally it was a massive hit.
See also: The Bill
The Sweeney
Of course, '60s gritty and '70s gritty are two very different places indeed. If Z Cars was about showing that figures of authority can have feet of clay, The Sweeney was about setting a beast to catch a beast. Regan and Carter are in the Flying Squad, a branch of the London Metropolitan police force devoted to violent crime (the show's name is taken from cockney rhyming slang, where Sweeney Todd = flying squad). Should you have ever wondered where Philip Glenister's foul-mouthed and scathing Life On Mars character Gene Hunt came from, look no further than John Thaw in this clip. Apologies for the lack of subtitles, some of that slang is so thick you can almost peel it from the screen.
Prime Suspect
http://www.youtube.com/watch?v=GUnrVeJ_VWg
By the time we get into the '90s, George Dixon is just a warm memory. Say hello to DCI Jane Tennison, a tenacious detective with more than a few personal problems whose unorthodox methods get results, but don't win her many friends. And if you're wondering how I got through that sentence without using the word 'maverick,' you can thank years of training. Thankfully, while some of Prime Suspect's premise is familiar territory, the scripts and performances, the twists and turns – look! Helen Mirren interviewing Voldemort about his murdered ex-girlfriend – are gripping enough to dispell any air of formula.
Cracker
In which a shaved Hagrid (with Lily Potter for a sidekick) wanders from crime scene to crime scene (they're always murders by now, even bank jobs are considered trifling matters in the era of CCTV) offering psychological profiles of murderers and getting on the nerves of proper policemen and women by being a smart-arse. Fitz may have the superior air of a fat Sherlock Holmes, but he's very fallible, a drunk and a gambler, and often takes far too long to work out what's what, even if he does get there in the end. This allows a certain amount of space for some social critique to find its way into the scripts. By which I mean that Cracker is a sociological drama dressed up as a cop show, and all the better for it.
Let's end on a lighter note. Here's Helen Mirren and Robbie Coltrane's collaborative effort Prime Cracker, made for 1997's Comic Relief telethon:
Which Brit cop show do you find to be the most arresting? Tell us here:
Read More
Filed Under: