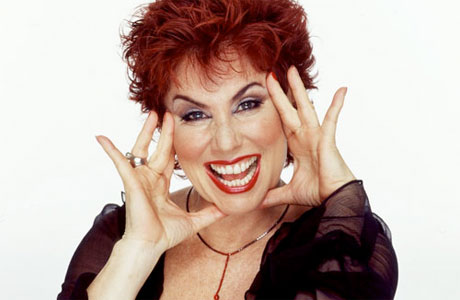 Note: 'fled' is a strong word. Maybe it would be fairer to say that these are five Great Americans (capitalisation intended to show respect and deep gratitude) who have not exactly been quick to flee back to the States, having found themselves enchanted by life in Britain.
Paul Gambaccini
http://www.youtube.com/watch?v=P9hErz7Si_4
Although he may not be a household name in his home country, Gambo is a hugely respected radio presenter and broadcaster in the UK. Originally hailing from New York, he first arrived in England in the late '60s for his first year at University College, Oxford, and effectively never left, putting his scholarly brain into working up an encyclopaedic knowledge of popular music, he's also the guy the news broadcasters bring in whenever someone from the world of rock and pop passes away – Robin Gibb and Michael Jackson being key recent examples.
Madonna
Here's someone Gambo has definitely met in his travels, heck, they may even have exchanged eye-rolls at the state of British pizza for all we know. It's probably safe to say that Madonna's love affair with Britain has changed since her divorce from Guy Ritchie. Where once she appeared to be aiming for a shooting/fishing duchess role – having already been crowned Queen of Pop – her recent work directing the film W.E. suggests that she feels a kinship with brash Americans who have a hard time warming up the frosty Limeys. Can't imagine why.
Bill Bryson
In some ways it's odd to try and claim that a travel writer should be resident anywhere, but having met and married a British girl, Bill Bryson was a constant presence in the UK from the late '70s until the late '90s, and it seems to have been because of a deeply-held affection this Des Moines native has for British customs, scenery and, yes, even the food. So much so that he wrote a book about travelling in Great Britain (the island, rather than the political entity) called Notes From A Small Island. He even took on the presidency of the Campain To Protect Rural England, although all that travelling must make it hard to pin him down for meetings.
Ruby Wax
Another American expat who came over to the UK as a student, Ruby studied drama at the Royal Scottish Academy of Music and Drama, before working at the Crucible Theatre, Sheffield, alongside Alan Rickman, and then later at the Royal Shakespeare Company. She made her name as a deliberately obnoxious presence on the alternative comedy scene of the early '80s (they were pretty obnoxious already, so she fit right in), appearing in sketch comedy shows alongside Dawn French and Jennifer Saunders (among others). But it was her interview shows that really made her a national treasure. Being possessed of disarming wit and a sharp confidence, Ruby managed to get more out of her subjects by following them around and poking in their drawers than any official biographer ever could.
Kevin Spacey
The British reputation for quality theatre precedes us around the world, and for once there's no reason to undercut such a boast with self-depreciation. Kevin, no slouch on the boards himself (a double Oscar winner, no less) came over to London in 2004 in order to realise a childhood dream of becoming artistic director of the Old Vic theatre in South London. After a shaky beginning, he's made a more than decent fist of the job, being awarded a CBE for his services in 2010. Now he pledges to stay there until at least 2015, and has even talked openly about applying for citizenship.
For more transatlantic travel, check out our Mind The Gap blog…
Read More
Filed Under: