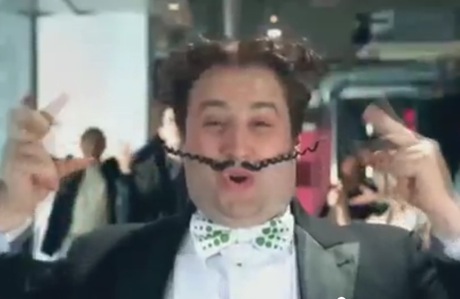 Warning: reading this blog post could be hazardous to your musical health.
According to "research," Britons say they spend 58 minutes a week with an advertising jingle, often unwanted, stuck in their heads.
Now it's your turn.
Even though Brits may not want to remember the tunes, said a recent survey cited in the Telegraph, it takes them an average of 17 minutes to stop humming or singing some of those tunes, which, dear readers, we are going to reveal to you now. (A couple may be very familiar to American ears.)
No. 1 – 'Just One Cornetto – Give it to me!'
At the top of the list is "Just One Cornetto," the popular ice cream cone whose ad uses the tune from the famed Neopolitan song "O Sole Mio."
The spot ran in the 1980s and 90's and was updated in 2006.
The ad was so popular that Princess Diana was even said to have launched into it with her bridesmaids while she was dressing for her royal wedding.
No. 2 – 'Go Compare'
Coming in at second place was an ad for Go Compare, a company that offers comparisons of financial services, like insurance. The song is sung to the tune of George M. Cohan's "Over There."
No. 3 – 'P-P-P-Pick up a Penguin'
Penguins are always popular, with or without music, so it's perhaps no surprise that the No. 3 slot went to "P-P-P-Pick up a Penguin" for its candy bar.
No. 4 – Mars
The ad for a Mars bar points out that this candy has not only sugar but glucose, too. And it's doesn't just taste good, the commercial says, it provides you with loads of benefits: "A Mars a day helps you work, rest and play."
No. 5 – Chicken Tonight
An ad for Chicken Tonight came in fifth. That's interesting for two reasons: first, as the Mirror pointed out, the ad hasn't been on British television for about ten years; second, the survey was in fact commissioned by Chicken Tonight.
No. 6 – Shake n' Vac
No. 6 is a spot for a carpet spray cleaner. Here's the original ad, with actress Jenny Logan doing the dance known as the "Shake n' Vac" – "it's all you have to do to put the freshness back."
Three decades later, Shake n' Vac brought Logan back for a thirtieth anniversary edition of the ad:
No. 7 – Club Chocolate Biscuits
If you like a lot of chocolate on your biscuit, join the club:
No. 8 – WeBuyAnyCar.com
Oh, by the way, these guys will buy any car.
And here's another ad we found that uses a jingle to attract car sellers – and these guys dress up in penguin suits (see No. 3):
No. 9 – MacDonalds 'I'm Lovin' It'
McDonald's may sell billions of burgers, but "I'm Lovin' It," given a bit of a hip-hop makeover, was down at ninth place.
No. 10 – Calgon
The dishwashing liquid rounded out the bunch, but we're really not sure it's much of a jingle.
Of course, we here at Anglophenia dug up a few other British advert jingles,and so we offer a small sampling for your viewing pleasure:
Here's a commercial that revolves around a secret fetish for lemonade:
We'd never heard of "wine gum" before, but here's an ad for it:
And finally, not just one but two commercials about potato chips – er, excuse us, crisps:
——————————————
What are your favorite British ad jingles?
——————————————
Read More
Filed Under: