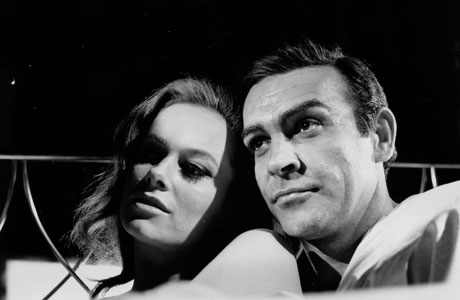 1. Cary Grant
The defining male movie star of the Production Code era, this British star managed to convey reels of erotic possibilities with one smoldering glance. His poise and wit made him that much more irresistible.
2. Laurence Olivier
Olivier is so highly regarded as the Great Theatrical Legend that his status as a hot piece often goes unrecognized. Well, consider that oversight remedied:
http://www.youtube.com/watch?feature=player_detailpage&v=ybJpwb494JM#t=511s
3. Alan Bates
Once voted one of the sexiest men alive, the preternaturally gifted Bates was a dreamboat who conveyed supreme intellect. He was best with a beard, no?
4. Tom Jones
Part pop star, part exotic dancer, this Welsh baritone knew how to work his (largely) female audience into ecstasy with a few hip shimmies and shirt unbuttoned to the navel. Call him cheesy at your own peril; we dare you to watch this clip and not feel your temperature rise.
http://www.youtube.com/watch?v=CS1gTs7k1v8&feature=related
5. Sean Connery
In this scene in 1983's Never Say Never Again, Bond tells Fatima Blush that her boat's "marvelously well-equipped." After Bond doffs his shirt, she shoots back, "So are you." Effectively speaking what's on everyone in the audience's minds. Again, this was 1983, far removed from Connery's gym-chiseled heyday.
6. Roger Daltrey
In the realm of British Invasion frontmen, Mick Jagger was dirty, Paul McCartney was cute, but The Who's Roger Daltrey was truly beautiful, a blue-eyed vision in golden ringlets.
http://www.youtube.com/watch?v=XkLI121OBms
7. Dirk Bogarde
The Brit's version of Montgomery Clift, with a bit of Sal Mineo thrown in for good measure.
http://www.youtube.com/watch?v=i1-7cr0Ayxk
8. Leonard Whiting
In the 1968 classic adaptation of Romeo & Juliet, Mr. Whiting has provided many high schoolers with their first experience with a naked male bum. You won't see any buttocks in the below clip — we'll let Google be your friend in that quest — but you will see the rock-star charisma that made him an icon of the '60s.
9. Simon MacCorkindale
Talk about your evenly matched celebrity couples – MacCorkindale married Susan George, who made our sexy females list, back in 1984. The actor scored a cult following from the cancelled early '80s series Manimal, which had the rather ridiculous conceit of a protagonist who could shape-shift into animals. MacCorkindale sold it with panache. He left us far too soon due to cancer back in 2010.
10. Mick Jagger
A wild, wiggly Brit who wants to do very bad things to you, little Missy. Sex personified for a generation.
http://www.youtube.com/watch?v=FnkIj1DapjQ
Who have we missed? Tell us!
Read More
Filed Under: