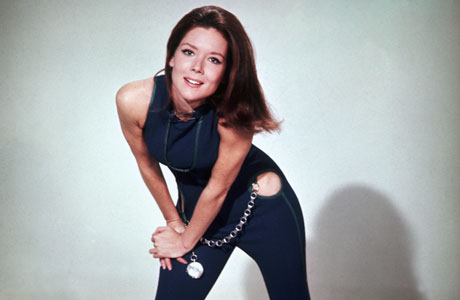 Along with celebrity panelists including John Barrowman, host Asha Leo (@ashaleo) will count down The Brit List: 20 Sexiest tomorrow (June 12) at 10/9 on BBC America. While that list will feature the au courant British sex symbols, let's look at the sexiest Brits of days gone by, the stars with posh accents who have tempted us through the ages. (We're talking vintage sexy here!)
We've split our lists into male and female selections, 10 each, and vote for your favorites. (And of course, tell us who we've missed in the comments section below!)
With no further ado, here's who we've picked as the Sexiest Brits of Yesteryear…
1. Diana Dors
Britain's answer to Veronica Lake and Marilyn Monroe.
2. Vivien Leigh
The two-time Academy Award-winning icon who both infuriated and enchanted audiences with her role as the formidable Scarlett O'Hara in Gone with the Wind.
3. Honor Blackman
Forget Ursula Andress' popping out of the sea: the sexiest introduction to a Bond girl might be Honor Blackman emerging from 007's dream haze and speaking her character's name, which just happens to be that naughty word for a woman's private part. Ms. Galore was no movie prop: she was defiant and in charge. And she was hot.
4. Julie Christie
Even when she played a total sniveling brat, Julie Christie was (and still is) a darling.
5. Susan George
One of the rambunctious beauties of the swinging '60s. Her sex appeal was used against her to disturbing effect in a controversial rape scene in Sam Peckinpah's Straw Dogs.
6. Jane Seymour
From playing Solitaire in the Bond film Live and Let Die to doting to the sick on horseback in Dr. Quinn, Medicine Woman, Seymour has been a sex symbol for the ages.
7. Charlotte Rampling
Rampling carries such an aura mystery and exoticism around her that she seems almost continental. (No wonder the British-born actress quickly became a muse from directors like Luchino Visconti and Francois Ozon and Europhiles like Woody Allen.) Since the '60s, each generation has discovered her sex appeal in their own way, with nude scenes in Ozon's Swimming Pool re-igniting audience lust for the star.
8. Joan Collins
Speaking of timeless icons, Collins, gorgeous as an ingenue, reached the heights of fame (and, some might say, beauty) well into her forties and fifties as treacherous Alexis Colby on Dynasty. But here's a bit of her 1967 role on Star Trek. She was saucy:
9. Helen Mirren
Mirren's many "gifts" are so often referenced that it has become a cliche to call her "sexy." But just watch this clip to see where the legend began…
10. Diana Rigg
Emma Peel may have been Mr. Steed's "assistant," but Rigg's cool, contained electricity in the role is what people remember most from the classic '60s spy series The Avengers.
http://www.youtube.com/watch?v=rIM1Q3Hwal8
Read More
Filed Under: