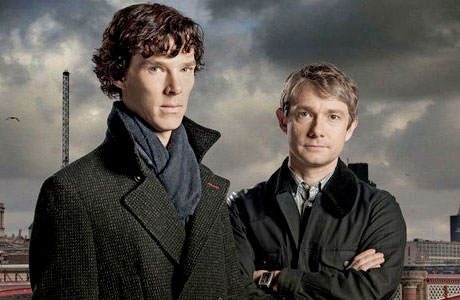 With four-part caper Inside Men premiering in Dramaville tonight (June 20) at 10/9c, we have a sneaky feeling our sleuth-like fans will be pleased to see BBC America is making its way through the Summer of London with free and discounted iTunes episodes of some of our favorite British crime dramas, including the ones listed below.
Let us tip-toe back to the beginning and take a peek at the premiere episodes of series featuring some sexy crime solvers.

1. Sherlock
Sherlock Holmes (Benedict Cumberbatch) and Dr. John Watson (Martin Freeman) meet for the first time when brought together after a series of unexplainable suicides. The latest is a woman in pink who lies dead in an abandoned building. The episode is loosely based on the first Sherlock Holmes novel A Study in Scarlet.
2. Luther
Detective Chief Inspector John Luther (Idris Elba) returns to duty after a seven-month suspension following a nervous breakdown. Luther is back and better – so he claims – greeted with a double murder. The troubled but sly detective is quick to deduce that the daughter of the victims is indeed the murderess but she's too smart leaving no prosecutable evidence.

3. The Hour
BBC investigative reporter Freddie Lyon (Ben Whishaw) is vying for an on-air position at a new public affairs program being launched in 1956 during the Suez Crisis. Freddie speaks before he thinks undoing his chances during the interview process. He doesn't have time for a pity party finding himself in the middle of an international conspiracy.
4. Whitechapel
Detective Joseph Chandler (Rupert Penry-Jones) is on the fast track with one unsolved murder case standing in the way of what he perceives to be a long-deserved promotion. He soon hits a dead end. The police's attention is brought to the similarities between the Jack the Ripper killings of 1888 and it becomes a race to catch the copycat killer before another woman's throat is slit.
5. Wallander
Inspector Kurt Wallander (Kenneth Branagh) watches helplessly as a young girl sets herself on fire committing suicide in a field. Wallender tries to wrap his mind around what could have driven her to such an act. He is haunted by this image taking him to a dark place ultimately landing him in the center of a cover up. At home, Wallander attempts reconciliation with his ailing father.
http://www.youtube.com/watch?v=CUYeGPK3OFs
Tell us about your favorite episode — take a stab at it!
Read More
Filed Under: