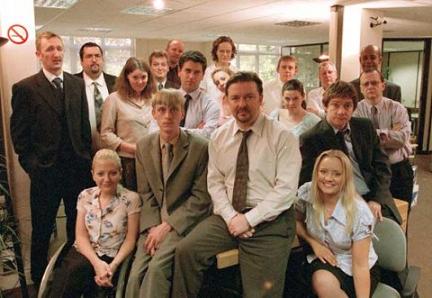 With the new BBC America docu-comedy Twenty Twelve premiering Thursday (June 28) at 9/8c, we thought it might be fun to "'av a laugh" by checking out iTunes where BBC America is giggling its way through Summer of London with free and discounted episodes of comedies on iTunes, including the ones listed below.
1.) The Office, Season 2, Episode 3
Tim (Martin Freeman) and Dawn (Lucy Davis) are up to their office shenanigans gluing Gareth's (Mackenzie Crook) phone receiver to the base. Boss man David (Ricky Gervais) is oblivious.
2.) Fawlty Towers, Season 1, Episode 1
Basil (John Cleese) and his wife (Prunella Scales) run a seaside hotel where he is trying to explain to waiter Manuel (Andrew Sachs) that there is too much butter on the trays. Manuel responds, "No, no. Uno, dos, tres (trays)." It becomes an almost Abbott and Costello "Who's on first" conundrum.
3.) Absolutely Fabulous, Christmas Special
Edina (Jennifer Saunders) and Patsy (Joanna Lumley) begrudgingly support Saffy (Julia Sawalha) in her theatrical debut and are pleasantly surprised.
4.) Blackadder, Season 2, Episode 6
Lord Edmund Blackadder (Rowan Atkinson) and Melchett (Stephen Fry) are kidnapped by Spanish torturers.
5.) Coupling, Season 3, Episode 6
Steve (Jack Davenport) goes on a tirade during a dinner party about the difference between men and women and the need for a lock on the couple's bathroom which he thinks of as "man space."
When was the last time you laughed so hard your sides hurt?!
Read More
Filed Under: