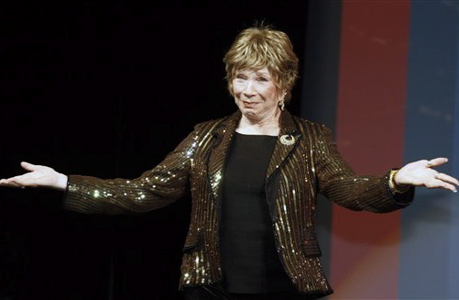 Reincarnation believer Shirley MacLaine says that filming Downton Abbey on location at Highclere Castle in England was "like stepping back in time. The whole place seemed haunted and full of otherworldly spirits."
The Oscar-winning actress will be appearing in the popular period drama for the first two episodes of Season Three.
MacLaine, 78, spoke recently with TV Guide's William Keck about her role on Downton as Martha Levinson, the mother of American-born Lady Cora Crawley (Elizabeth McGovern). She said that what made Martha most interesting were "her reactions to tradition and the class system. I do my best to be kind to tradition, but frankly think it should shift."
For the full interview, click here.
It seems that MacLaine, like many female viewers of the show, is a fan of the long-suffering Mr. Bates, who is played by actor Brendan Coyle. She said she was disappointed not to share scenes with him but enjoyed working with her old friend, Dame Maggie Smith, who portrays the Dowager Countess.
"Our characters' relationship is probably not what you'd think," she said. "Maggie and I are both so old, we have a lot of time on us to discuss."
The Emmy-winning drama begins airing fresh episodes in England in the fall and stateside on PBS in early 2013. As for MacLaine, in addition to her new role in Downton, she is currently starring with Jack Black in the well-reviewed indie comedy, Bernie, and will be receiving the American Film Institute's Life Achievement Award tonight (June 7).
————————–
Are you looking forward to seeing Shirley MacLaine's arrival at Downton Abbey?       
————————–
Read More
Filed Under: