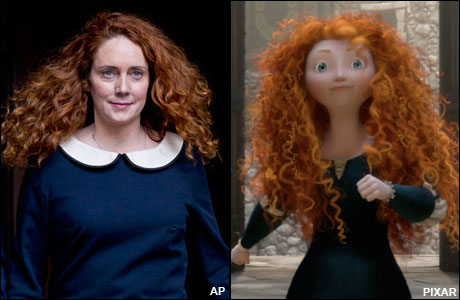 Private Eye, the British humor magazine, has for years run a regular feature called "Lookalikes," which features side-by-side photos of two celebrities or news figures who resemble each other. (Spy, the defunct American satirical monthly, did the same under the rubric "Separated at Birth.")
We have a can't-miss Lookalikes nomination: Merida, the animated heroine of Brave, the latest Pixar movie, which opens this Friday (June 22), and Rebekah Brooks.
Merida is a medieval Scottish princess who's bold, brave and full of bravado. Her most distinctive physical feature is a long, wild, curly mane of bright red hair, worthy of her being a star spokesperson in any shampoo commercial.
It also makes her a dead ringer for Brooks, the embattled former newspaper executive at the center of the current phone hacking scandal in England.
The resemblance is eerie. It's also totally coincidental, given that Pixar began developing Brave's visual look some five years ago. Brooks only hit the headlines last summer after it was revealed how widespread her newspapers' hacking had been into the cellphones of celebrities, politicians and news figures and how high up the cover-up efforts went.
She is currently facing charges in the U.K. for conspiring to pervert the course of justice. Brooks first rose to fame as the editor of the Sun and the News of the World newspapers and then as the chief executive of News International, the tabloids' parent company, which is part of Rupert Murdoch's News Corporation empire.
—————————–
Do you think Brave's cartoon heroine is a twin for Rebekah Brooks?
—————————–
Read More
Filed Under: