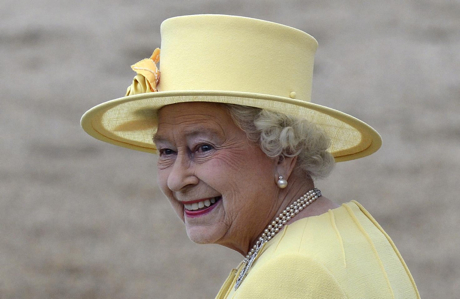 These may be tough economic times, but you probably won't be surprised to learn that the Queen is doing quite well.
In fact, she's about to get a 20 percent raise. And it's not because she's been working overtime to celebrate her Diamond Jubilee (though clearly she has been).
No, the reason is that Her Majesty's real estate holdings, known as the Crown Estate, had a very good year, bringing in a record profit of more than £240.2 million ($377.4 million).
According to Reuters, that's a four percent increase, and it's mainly the result of strong tenant demand for retail space in the high-toned shopping areas of Regent Street and St. James's in London.
The Queen's allowance, which is a percentage of the Crown Estate's total profits, will rise from £30  million ($46.8 million) last year to £36 million ($56.2 million). It's the most the Queen has made since 2008, but it's less than half of the £77.3 million ($120 million) she made in 1991.
More royal-related news:
• As Prince William celebrates his 30th birthday today, he too will be coming into some money – a roughly £10 million ($15.6 million) inheritance from his mother's estate.
Princess Diana established a trust for her sons, William and Harry, before her death in 1997.  It's estimated to be worth more than £20 million ($31 million) and Prince William's half becomes available to him today.
The trust funds, reported the Daily Mail, were originally intended to be given to the Princes on their 25th birthdays, but three months after Diana's death Britain's High Court altered the age of disbursement, a change meant to protect the heirs.
• Although there were reports a while back that Kate was planning a big birthday bash for her husband, that doesn't seem to have been the case.  William has apparently been busy with his RAF search and rescue job this week, and a St. James's Palace spokesman, reported the Daily Mail, said that any birthday observances would be "low-key" and "private."
• Of course, the Queen's birthday celebrations were anything but low-key or private – the annual Trooping the Colour ceremony is full of multicolored uniforms, horse guards and lots more pageantry. Of course, it's not the Queen's actual birthday – her real, chronological birthday is in April – but ever since 1748, the formal celebration falls in June, which makes sense if you think about British weather.
Prince Philip was well enough to attend the ceremony last weekend, after feeling ill during the Jubilee Jubilee celebrations and spending a few days in the hospital.
It seems that Prince Harry was also well enough despite wild drinking into the wee hours on the eve of the pageant. The Mirror reported that he'd partied with his cousin Princess Eugenie at the Arts Club in Mayfair until 2 a.m.
Read More
Filed Under: