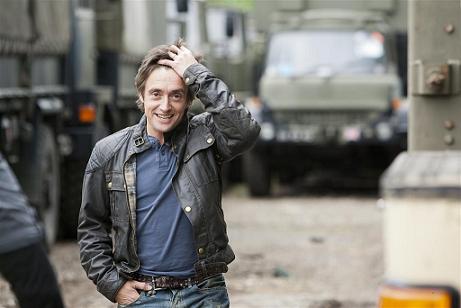 Top Gear's Richard Hammond is returning for the second season of Crash Course, which begins filming next week in Texas. The new eight-episode, 60-minute season, produced by BBC Worldwide Productions for BBC America, will land Hammond in some tight situations.
Back in Season One, Hammond tackled America's most dangerous vehicles with some help from the locals. In one episode, he found himself in a tank firing off a cannon and, in another, wrangling the world's most powerful fire truck.
"This season, we're pulling Richard out of his comfort zone and putting him through the ultimate crash course," reports BBC America. "Hammond will immerse himself in uniquely American – often terrifying – vocations."
In each episode of Season Two, Hammond has less than five days to master his assigned job ranging from conquering his fear of heights and jumping from the top of a bridge as a Hollywood stuntman to mastering his mad skills in a Harlem, NY barber shop. No word on a premiere date for this upcoming season.
Watch Hammond as he talks his way out of a run-in with the police back in Season One:
What job do you think Richard Hammond is best suited for?!
Read More
Filed Under: