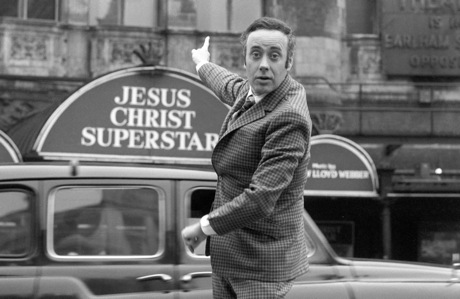 Victor Spinetti, a Welsh actor who appeared in all three Beatles films – A Hard Day's Night (1964), Help! (1965) and Magical Mystery Tour (1967) – and was a longtime friend of members of the rock group, died of cancer in London on June 19 at age 82.
He also appeared in dozens of other films, stage productions, and TV shows, including such British sitcoms as Two in Clover, Take My Wife, Kelly Monteith and An Actor's Life for Me.
http://www.youtube.com/watch?v=eE5vlWApvV0
The Beatles first met Spinetti in 1963 after John Lennon and George Harrison became fans while watching him on the West End in Oh, What a Lovely War!, a stage satire about World War I, in 1963. (Spinetti won a Tony award for his performance in the show when it ran on Broadway.)
The two band members invited Spinetti to appear with them in A Hard Day's Night, in which he played an easily frustrated TV director who's overseeing a telecast of a Beatles concert.
Earlier in the year, Spinetti had starred in a hit British movie called The Wild Affair (1963). He often recounted that Harrison told him, "You've got to be in our film. Otherwise my Mum won't come see it because she only fancies you."
In addition to the Beatles films, he and Lennon collaborated on In His Own Write, a 1968 stage adaptation of Lennon's 1964 autobiographical collection of essays and poems. The play was produced the National Theatre in London with Spinetti serving as director.
In 2006, Spinetti published his own memoirs, Up Front. In the book, he recalled stories of growing up with an Italian father in Wales as well as his friendship and professional adventures with the Beatles. He also wrote about his encounters with Elizabeth Taylor and Richard Burton, Laurence Olivier (who asked about the Beatles), Princess Margaret, and various other famous figures.
In his later years, Spinetti was happy to discuss the Beatles. At fan conventions, he would speak and answer questions about the Fab Four. Here, he gives a long-winded but amusing answer to how knowing the Beatles affected his life:
Read More
Filed Under: