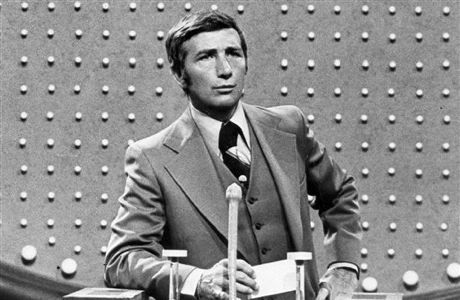 Long before he was a star of Hogan's Heroes and then the popular host of Family Feud in the U.S., Richard Dawson was known in England as Dickie Dawson.
The comic actor and game show host, who died June 2 at age 79 in Los Angeles of complications from esophageal cancer, first rose to fame as a comic in the U.K. He often appeared on TV with his then wife, British sex symbol and actress Diana Dors, on The Diana Dors Show, which aired from 1959 to 1961.
http://www.youtube.com/watch?v=3ALvYFKoj0w
The couple moved to Hollywood in the early 60s – it was Dors' second go at trying to establish herself with an American movie career – but separated in 1964 (and divorced in 1967). She returned to England and Dawson stayed in L.A., where he was scoring guest roles on TV and small parts in movies.
His career-making break came when he was cast in 1965 as Corporal Peter Newkirk on Hogan's Heroes, a sitcom about prisoners of war in a German POW camp during WWII. He played a British officer who was both a bomb expert and a skilled pickpocket.
The show, a hit, ran for six seasons. "Hogan's Heroes lasted longer than the war," Dawson joked in a 2009 interview with the Los Angeles Times to mark the DVD release of the entire series.
http://www.youtube.com/watch?v=aX4fSzPHNYI
Dawson said he used a Cockney accent on the show after network executives complained that they couldn't understand what he was saying when he originally attempted a Liverpool accent.
His other major TV job was as the host of Family Feud from 1976 to 1985, a gig he was offered after displaying his quick wit while a celebrity contestant himself on The Match Game.
Dawson's trademark as Feud's host was always looking natty in a three-piece suit and bussing all women contestants on the lips. "It was for luck and for love," he always said of the kisses. It was certainly the latter with Gretchen Johnson, a contestant whom he met on the show and who became his second wife – she and her daughter and two sons from his first marriage to Dors survived him – in 1981.
Dawson's most notable role on film is in The Running Man (1987), an Arnold Schwarzenegger futuristic thriller in which Dawson parodied himself as a smarmy, conceited game show host.
Critics uniformly praised his performance.
"His hair always perfectly blow-dried, his haberdashery immaculate, Mr. Dawson steals the movie as a personality composed of equal parts of Phil Donahue, Merv Griffin and Maximilien Francois Marie Isidore (Mickey) Robespierre," wrote Vincent Canby in the New York Times.
http://www.youtube.com/watch?v=MIqVA47QoZs
Dawson also briefly made an attempt at a singing career. An anti-war song called "Apples and Oranges," that he recorded in 1967 has been making the rounds on the Internet over the past few days, because, writes the Los Angeles Times, the lyrics "are sung from the point of view of a recently deceased narrator longing for the corporeal pleasures of fruit picked fresh from the tree."
Dawson was born Colin Lionel Emm in Gosport, Hampshire in England in 1932. He left home to join the Merchant Marines when he was a teenager, before eventually drifting into acting and comedy. He became an American citizen in 1984.
—————————–
Were you a Richard Dawson fan?
—————————–
Read More
Filed Under: