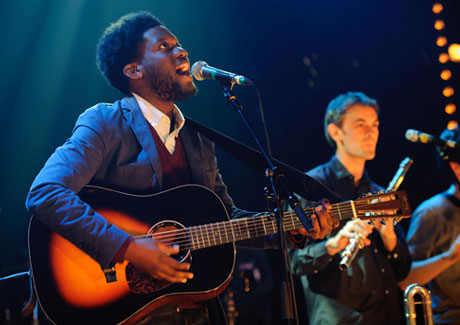 Michael Kiwanuka is one of the hottest exports from London this year: the folk-soul artist, whose sound recalls Bill Withers, won the BBC's Sound of 2012 poll, indicating the media and industry's investment in his success. (He also makes our Summer of London music list.)
All eyes are on Kiwanuka in a summer when heads are turning toward London. Anglophenia's Lindsay Davis recently quizzed him a bit about his hometown. (And check out two exclusive performances Kiwanuka did for Asha Leo on The Brit List.)
How does it feel to be home in London?
Well, since touring quite a lot I'm feeling quite at home being on the road. Back home I get kind of fidgety, honestly.
Where are the young kids hanging out in London these days?
East London used to be run down and now it's becoming totally cool and hip. Not posh. Young people are going to warehouses and galleries. I love to hang out there and Camden's really fun, too.
Do you find creative inspiration in London?
Ah, yeah. In London, with all the history behind it, it's pretty cool being a young musician. Playing at The Half Moon in Putney, where The Who and Keith Richards, so many artists, have played. You just look around and it all inspires you to be more imaginative. Also, the town near where I grew up, Muswell Hill, is a little old and hasn't changed a bit, so going through there and passing those places inspires me. London's just got so much of that kind of thing.
Are you excited to be in London with the Olympics coming up?
Yeah, I'm going to wait and see. It should be really great but also pandemonium. I'm kind of indifferent. I do love track and field. The hurdles, 200 and 100 meters…
Some metaphors in there with respect to a life in music?
Well you get tired on the road going from gig to gig. There are definitely hurdles. There's loads of parallels to running.
You told the Guardian that winning the BBC Sound of 2012 award could come with some baggage?
There are expectations to do as well as other people who have done that well. It might have become distracting but I am really happy about it overall.
"Home Again"
"I'm Getting Ready"
Read More
Filed Under: