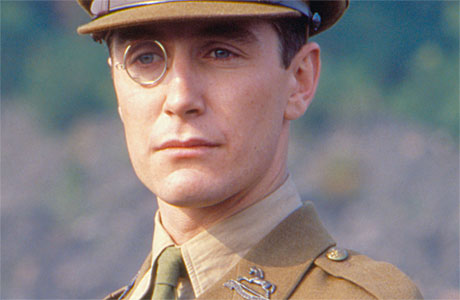 It must be a little frustrating to be Paul McGann, specifically in relation to Doctor Who. He is just as much of a modern thespian powerhouse as Christopher Eccleston, capable of bringing the same weight and energy to the role that David Tennant did, and yet he only got one chance to prove it, outside of the netherworld of audiobooks, and no matter how decent a fist he made of being the Doctor, it was for a one-off made-for-TV movie. 
Nevertheless, Paul's career has not been found wanting in memorable roles, most notably his appearance in one of the best British movies ever made, so let's not be too patronizing.
Here's a selection of his mighty works:
Here he is, in the role that cemented his reputation as a hot new talent, Percy Toplis in 1986's The Monocled Mutineer:
http://www.youtube.com/watch?v=skv2ICwVi0I
That same year, he appeared in a BBC production of Oscar Wilde's The Importance of Being Earnest:
And one year later, all hell broke loose ,on and offscreen, in the wondrous, impeccable Withnail and I. Here are some highlights:
Ken Russell asked him to be in his adaptation of the DH Lawrence novel The Rainbow in 1989. A handsome man in unform. Here's the trailer:
http://www.youtube.com/watch?v=MhBndujDPpQ
That same year he appeared in Dealers, a drama based on investment and bankers. Can you imagine such a thing?
Here he is in 1990's medical thriller Paper Mask:
And a one-off BBC drama called Drowning In The Shallow End, in which his natural Liverpool accent is back in place:
In 1998 he played Eugene Wrayburn opposite Keeley Hawes in an adaptation of Charles Dickens' Our Mutual Friend:
http://www.youtube.com/watch?v=f9AadE48O20
And who could forget his equally dastardly turn in Hornblower, from 2003? Here's a selection of bits:
Here's a short movie from 2003 called Listening:
And three years later, here he is in an episode of the drama series Sea of Souls:
Here he is in the miniseries Collision, from 2009:
And that's without mentioning Alien 3, BBC America's Luther, Queen of the Damned, Jonathan Creek, Waking the Dead and any amount of theatre work. Maybe it's Doctor Who that was lucky to have him for as long as it did…
Next: Christopher Eccleston
Read More
Filed Under: