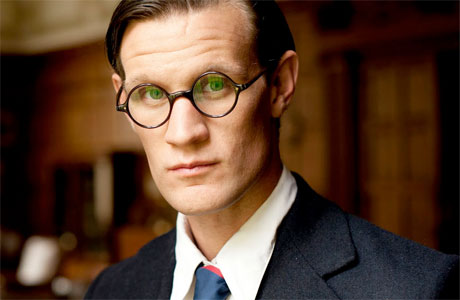 Here's our final roundup of clips from actors who have played the Doctor, before (and after) they played the Doctor. Next week we'll be having a look at companions and villains and all sorts, but let's go out with this resume from our current TARDIS dwelling Time Lord pal. There's a chance you may be very familiar with all of these clips already. This is just something we are all going to have to learn to live with.
The story so far: starting in 2003, strikingly tall Matt Smith has made something of a name for himself as a London theatre actor. His credits include Murder in the Cathedral, Fresh Kills, The History Boys, On the Shore of the Wide World, Swimming with Sharks and That Face.
This then leads to some TV appearances, set around his theatre work. Here, for example, is his first big TV part (that we could find on YouTube), playing Jim Taylor, opposite Billie Piper in the Masterpiece Theater presentation of Philip Pullman's The Ruby In The Smoke, from 2006:
And here he is, a year later, playing the bleeding heart northerner Danny Foster in Party Animals:
Oh and look, he's Jim Taylor again, that same year, in the Ruby sequel The Shadow In The North:
And back with Billie once more in that year's Secret Diary of a Call Girl. Also that year (and what a busy year it was!) he appeared in The Street:
2008 saw a move into the movies, albeit a frustrating one. He took a part in the blood-soaked (but charming) gangster tale In Bruges, playing the younger version of the intimidating gang boss portrayed by Ralph Fiennes. Sadly his part didn't make the final cut, although he now says he prefers the film as it is:
In 2009 he appeared in the BBC police drama Moses Jones, which went out on air after he was announced as David Tennant's replacement:
That same year, he made the short film Together:
2010 was considerably busier, given his Who duties, but he still found time to make an appearance in the disturbing clone-love movie Womb:
And last year there was the title role in the Christopher Isherwood biopic Christopher And His Kind:
Which brings us up to date, with the Olympic drama Going For Gold – The '48 Games (which is called Bert & Dickie in the UK)
And given that he's only 30 years old, we can expect this list to just keep growing and growing.
Read More
Filed Under: