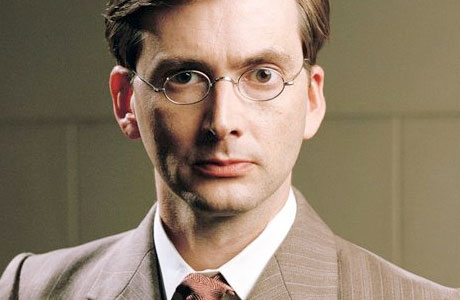 Where did we get to after yesterday's Tennant overload? Oh yes…
So let's start with the overlap years, the stuff David did in between battling Weeping Angels and scarecrows and suchlike.
For starters, here he is in 2007, (eventually) doing a fair-to-middling Tony Blair impression on the impressions show Dead Ringers:
In 2007, he played a wheezy driving instructer in Learners:
And a year later he turns up (opposite Jim Broadbent and Andy Serkis) in Einstein and Eddington. He's not Einstein though:
2009 was a busy year, there was St Trinians 2: The Legend of Fritton's Gold, in which he's the oily Sir Piers Pomfrey:
And in a similar vein, from the same year, David appears in Glorious 39, a pre-war thriller:
And here's his Hamlet, that very same year:
There's always been something special about the chemistry between our David and Catherine Tate:
Sorry, we've started a thing now, let's go all the way…
And isn't this a suitable place to remind ourselves of Much Ado About Nothing? Why yes, yes it is:
http://www.youtube.com/watch?v=x76TXTTCUlQ
In 2010, he appeared in the NBC pilot Rex Is Not Your Lawyer:
http://www.youtube.com/watch?v=Q4cqRsvu9t0
A more successful venture was that year's Single Father, and yes that's Suranne Jones (otherwise known as Idris, or "Sexy", to Whovians).
Last year we had the football drama United, in which David played Jimmy Murphy, the Manchester United coach:
And Fright Night, in which he played Russell Brand (or something):
Not to mention keeping it surreal in This Is Jinsy:
Then there's his vocal ebulliance in the children's cartoon Tree Fu Tom:
http://www.youtube.com/watch?v=0wKjkwi1FAo
And of course his drippy Darwin in this year's The Pirates! Band of Misfits:
And bringing us right up to date, True Love, which is on BBC TV right NOW:
Of course, if you STILL can't get enough, you could always go back to the beginning and start again…
Read More
Filed Under: