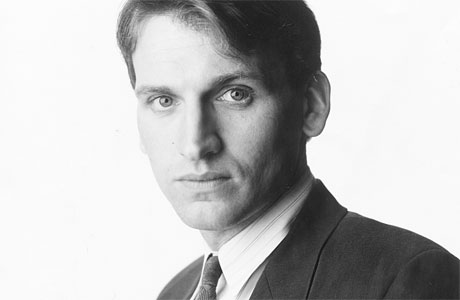 When Christopher Eccleston first emailed Russell T Davies to ask to be considered for the part of the Doctor, there was no guarantee this was a one-way ticket to worldwide success.
The show had been off the air for years, the TV movie had come and gone, and Russell was asking for a pretty hefty budget so that the special effects were as good as his scripts. All of which meant everyone had to take the relaunched Doctor Who very seriously indeed. This time, it had to be clear that the Doctor had just come back from a war, rather than a long lunch and a larky afternoon in the BBC costume department. Enter Christopher, looking like the former captain of a German U-boat.
But could he handle bringing new gravitas to the role? Well, let's have a look over his greatest hits, and see what you think, starting with his first TV appearance, in the 1990 TV movie Blood Rights:
Here's a little moment with Clive Owen from Chancer, the following year:
Christopher's first big moment came when he played Derek Bentley in 1991's Let Him Have It, the true story of a British teenager who was hung for his minor role in the death of a police officer in 1953 (and postumously pardoned in 1998):
And then… oh blimey, the hits came thick and fast, starting with Jimmy McGovern's Cracker in 1993 (this is an entire episode, Chris appears from about six minutes in):
http://www.youtube.com/watch?v=eEY1HNoNbl4
Then came Shallow Grave (1994):
Which was swiftly followed by another McGovern classic, Hearts and Minds, in 1995:
And then the magnificent Our Friends In The North, in 1996, which is actually every bit as good as this cheesy ad says it is:
And then Jimmy McGovern's career peak: Hillsborough. This dramatisation of events surrounding the Hillsborough disaster, in which 96 people died, and nearly 800 were injured as a result of poor crowd handling at a football match, and then the subsequent fallout in which supporters were blamed by the police and some newspapers, won a BAFTA for best single drama in 1997:
http://www.youtube.com/watch?v=mNHUE307eq0
That same year, he appeared in Jude, alongside an actor whose name will now be forever linked to his:
Two years later, Elizabeth, in which he played a skinhead Duke of Norfolk:
One year after that, he's explaining the odd spelling of eXistenZ in some movie. I forget the name:
In 2001 he played the Iago role (only called Ben Jago instead) with face-chewing ferocity, in a modern update of Othello (warning, this clip is VERY NSFW, containing racially offensive language):
http://www.youtube.com/watch?v=D5uyXQqWNgA
That same year, having got a taste for the underdog, he played a man who collects strays in the BBC TV movie Strumpet:
Here's an interesting one, lead role as Steven Baxter, son of God, in The Second Coming, a TV drama about faith, written by one Russell T Davies. I wonder if that'll lead to any more work?
Does Top Gear count? Top Gear counts…
Then there was the curious case of Lennon Naked from 2010, in which a former Doctor formed a world-beating beat combo with the future Moriarty:
http://www.youtube.com/watch?v=Rsgr1JRzwPA&feature=related
And, to round things off, a fantastic adaptation of The Borrowers, ripe for the 2011 Christmas schedules:
And I haven't even mentioned 28 Days Later, The Others, Gone In Sixty Seconds, Heroes, The Shadow Line or GI Joe: Rise of the Cobra.
As for the Doctor, well in the end, all it took was one line – "lots of planets have a north – and victory was assured.
Next: David Tennant
Read More
Filed Under: