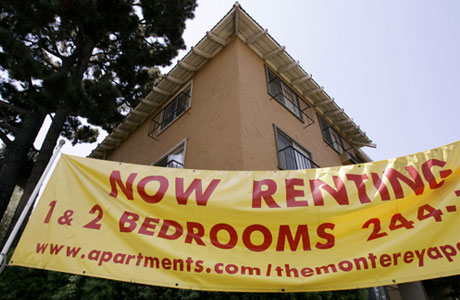 In the interest of full disclosure I should probably tell you that my current landlord is one of the good ones. A+++. I'd recommend him to a friend. Our guy took a chance on two bumbling Brits with no credit history who, nearly a year later, are yet to master how to put the recycling out properly. To be fair, he could have done better.
We were lucky; not everyone will be. After all, "dream landlord" is unlikely to register high up on your apartment search checklist. When newbie expats arrive in the U.S., the pressure is on to find somewhere liveable fast. You'll no doubt prioritize questions like, "Will the body in the freezer be gone by the time we move in?" and "Is the Hell's Angel next door considerate noise-wise?" over, "Is the landlord a giant pain in the butt?" It's not like your realtor will give you an honest answer anyway.
Plus, an eccentric landlord – like moldy grouting or jazzy carpet – is easily dealt with, right? In fact, dealing with a problematic property owner, especially when you're in a foreign country and don't know your rights, may not be so simple.
If problems occur, get acquainted with your rights. They vary from state to state, but you can find most of what you need to know at the U.S. Department of Housing and Urban Development's website.
And if you have the time, energy and a steady nerve (competition for good apartments is fierce, so you might be reluctant to hang about), investigate the person you'll be handing money to every month before you sign anything. Meet with them, at the very least. And arrange a viewing when the current tenants will be home: if there's dirt, they'll let you know.
If your American landlord does turn out to be unbearably persnickety, confront any issues early on but try to be diplomatic. Most just want you treat their property well and would rather you didn't hassle them with complaints every five minutes. But they'd also rather help you out than have you mess up important chores, like reading meters and fixing leaky toilets.
If your landlord is persistently negligent – refusing to do repairs, for instance, or turn the heating on when it's snowing – you can always consider withholding rent. But thoroughly check your rights before taking any extreme measures.
The American landlords I've encountered (we looked at 70 apartments, so we met at least 10) have been a mixed bunch. One guy answered the door with an owl on his shoulder. Another stood in the corner counting his money and muttering to himself while we gave ourselves the tour. But most were friendly and, on the surface at least, normal. Try to return the favor by being a considerate tenant. Pay your rent on time and refrain from daubing satanic symbols on the walls. Leaving a bottle of fizz with your Christmas rent check is never a bad idea.
Any other tips for dealing with your landlord? Tell us below:
Read More
Filed Under: