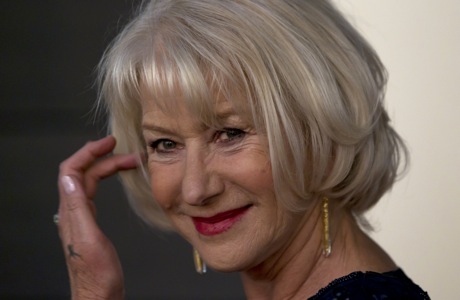 It's still no more than wishful thinking, but London theater fans are excited by the possibility that Dame Helen Mirren may be gracing a West End stage by again playing Queen Elizabeth II.
The 66-year old actress won a Best Actress Oscar for playing the reigning monarch in 2006 in The Queen, a film about Elizabeth coming to terms with the public's grief and anger following the death in 1997 of Princess Diana.
Peter Morgan, who was nominated for an Oscar for Best Original Screenplay for The Queen, has now written the first draft of a play that once again focuses on Her Majesty.  According to The Daily Mail, his new drama revolves around Elizabeth's weekly meetings with the dozen Prime Ministers who have been elected during the course of her 60-year reign.
Morgan said he was hoping that Mirren would portray Elizabeth on stage when his play, directed by Stephen Daldry (The Reader), is to be produced on the West End early next year. There has been no word yet from the actress on whether she will take the role.
Mirren was last seen on stage in London when she played the title role in Racine's Phédra at the National Theatre in 2009.
How did the Queen herself feel about Mirren's performance in the 2006 film? As Mirren told Hello magazine, "She's never publicly commented on it, but I know she didn't absolutely hate it because I have subsequently been invited to tea at Buckingham Palace."
Mirren was among the celebrities officially saluting the Queen during a Diamond Jubilee pageant at Windsor Castle last month.
————————–
Would you travel to London to see Helen Mirren on stage as the Queen?
————————–
Read More
Filed Under: