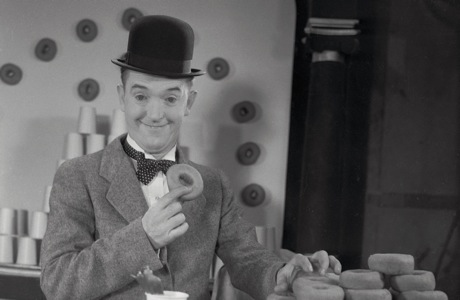 Here's a tip of our bowler hat to the memory of one of the world's funniest Englishmen, who was born 122 years ago today (June 16). That would be Stan Laurel, the thinner, shorter, British-born half of the classic Hollywood comedy team, Laurel and Hardy.
Laurel was known for his gentle demeanor, sad smile, spiky hair, slouchy walk and propensity for getting into trouble. As Oliver Hardy, his mustachioed on-screen partner, could be counted on to mutter in many of their 100-plus films, "Here's another nice mess you've gotten me into." (The phrase is frequently misquoted as, "Here's another fine mess…"
http://www.youtube.com/watch?v=_SvuNcPx2dg
Arthur Stanley Jefferson was born in 1890 at his grandparents' house in Ulverston, England. His father was a music hall performer and theater owner, so young Stan was to the stage born. By the time he was 20, he was touring the U.S. with a comedy troupe in which he served as the understudy to Charlie Chaplin. He returned to England after that visit but came back to the U.S. several years later and began appearing in films.
He and Hardy were first paired as a comedy team at the Hal Roach Studios in 1926. The duo clicked with moviegoers and, having easily survived the transition from silents to talkies, continued steadily to churn out movies through 1945. They also toured and made personal appearances, including being interviewed in this newsreel to promote a visit to England:
Their single most famous routine is probably their hapless attempt to deliver a piano to a house located at the top of a large, steep, concrete stairway in The Music Box (1932). The 29-minute short, which won an Oscar, has been studied for decades in film and comedy classes for its pure slapstick perfection.
http://www.youtube.com/watch?v=86wuDmRy2Hc
The friendship between the two men extended beyond the movie set. When Hardy died at age 65 in 1957, Laurel released a statement saying, "The world has lost a comic genius. I've lost my best friend."  He refused to perform without his partner, turning down lucrative offers.
In 1961, Laurel was awarded a special Oscar for "his creative pioneering in the field of cinema comedy." He was too ill to appear at the ceremony; Danny Kaye accepted the award for him. You can take a look at it here.
Laurel died four years later at age 74 and is buried at Forest Lawn Cemetery in Los Angeles.
Laurel may be buried in the U.S., but his memory remains strong in the UK. In his hometown of Ulverston, there's a Laurel and Hardy Museum. Its gift shop offers Laurel and Hardy cuff links for an on-line price of £8.50 ($13.30). And a bronze statue of Laurel and Hardy – it depicts the pair leaning against a lamppost – was unveiled in the center of town in 2009.
——————————–
Does Stan Laurel still make you laugh?
——————————–
Read More
Filed Under: