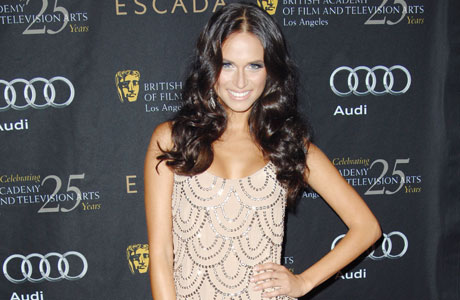 We've seen Brit List host Asha Leo beguile celebrities on the red carpet. (George Clooney seemed absolutely besotted with her at the BAFTAs.) But the British model-turned-TV personality appears to have made her biggest impression on one of Hollywood's premier star-makers, film mogul Harvey Weinstein. He recently sang Asha's praises in an email interview with BBC America.
"I first worked with Asha at last year's BAFTA Tea ceremonies, right before the Academy Awards," Harvey writes. "She was interviewing all of the nominees in attendance and I recommended that Michelle Williams, who was attending for her nomination as Best Actress in my film My Week With Marilyn, speak with Asha.
He continued: "We thought the questions she asked were excellent and insightful. I think she is one of the wittiest hosts and TV personalities out there. Her deceptive pretty looks allow her to ask the questions that other hosts wouldn't dare."
Weinstein has a track record of catapulting promising young stars onto Hollywood's A-list: Gwyneth Paltrow, Matt Damon, Quentin Tarantino, and King's Speech director Tom Hooper all took home Oscars under his watch. Therefore, his stamp of approval is a massive compliment indeed.
Here's the aforementioned clip of Asha interviewing Michelle at the BAFTA tea party:
You can catch Asha hosting The Brit List: 20 Baddest — featuring U.S. and U.K. celebrities cracking wise on Britain's most notorious troublemakers — Tuesday, June 26 at 10/9c on BBC America.
Read More
Filed Under: