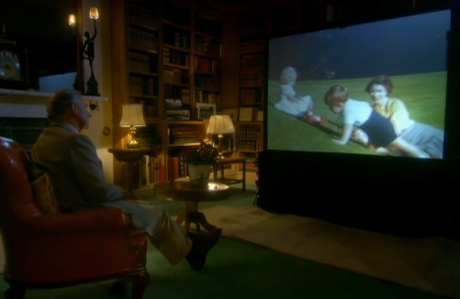 Queen Elizabeth II has reigned longer – 60 years compared with 44 – than namesake Elizabeth I, but the current monarch trails her predecessor when it comes to the number of times she has been depicted in movies.
Then again, the Virgin Queen herself never starred in a movie, much less shot one. That's exactly what the reigning monarch has done, as revealed by her eldest son, Prince Charles, in a BBC special in which he paid tribute to his mother as part of the current Diamond Jubilee celebrations marking the 60th anniversary of her coronation.
On the special, which aired on BBC1 on Friday night in England, Charles is seen sorting through old home movies shot by the Queen and Prince Philip, his father, and then watching and commenting on them. The footage, shown publicly for the first time, includes Elizabeth on a plane heading back to England from Kenya just hours after hearing of the death of her father, King George VI, in 1952.
"Never seen this," Charles says as he watches. "So these must be the first pictures taken of Mama when she knew she was Queen."
There are also shots of Elizabeth helping an infant Charles learn to walk and of seaside family vacations, with a young Charles and Princess Anne, his sister, walking backwards like crabs and buried up to their necks in the sand.
http://www.youtube.com/watch?v=Vsymet2gXbo
That's the real life Elizabeth II. The reel Elizabeth II is a much rarer creature, with only one lengthy screen depiction, that being the sympathetic portrayal of her in The Queen. Helen Mirren won an Oscar for her starring turn in the 2006 drama as she showed Elizabeth struggling to understand fully the import of the public outpouring of grief and anger following the 1997 death of Princess Diana.
The current monarch was also depicted, briefly, as a child in 2010's The King's Speech, which won Oscars for Best Film, director, screenplay and Best Actor for star Colin Firth. The movie was set in the 1930s and little "Lilibet," which was Elizabeth's childhood nickname, is glimpsed several times as her parents chat with her and younger sister Margaret or come into the nursery to say goodnight before going out. Freya Wilson played the young princess in the movie.
Other than those two films, most cinematic portrayals of the Queen have been brief and usually for comic effect, with actresses playing her showing up in big hats and cuddling or trailed by corgis. Typical was 2012, a 2009 disaster film about a worldwide climactic cataclysm, in which an actress playing Elizabeth II was briefly glimpsed climbing aboard an ark along with her dogs.
In 2012, the actress was Elizabeth Richard, a lookalike who for the past two decades has played the Queen on TV and in such movies as What a Girl Wants (2003).
Another lookalike actress who has specialized in portraying the Elizabeth is Jeannette Charles, who for nearly four decades has been popping up as the Queen on TV and in movies. Her royal turns in films include Austin Powers in Goldmember (2002) and The Naked Gun: From the Files of Police Squad! (1988).
——————————-
If there's another movie about Queen Elizabeth II, what actress should play her?
——————————-
Read More
Filed Under: