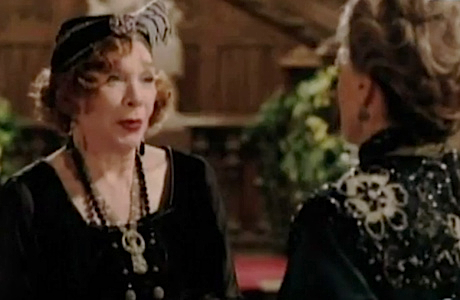 Hold tight, Downton Abbey fans. There's just another six months to go until Season 3 begins airing on PBS in early 2013. (Or one could travel to England, where Season 3 starts showing on ITV this fall.)
To tide fans over during the wait, here's a sneak peek at the first meeting between the Dowager Countess of Grantham (the redoubtable Maggie Smith) and Martha Levinson (Shirley MacLaine), who will portray Lady Cora's mother, a self-confident and wealthy American in Season 3.
This preview clip was seen first by Hollywood insiders in attendance when the American Film Institute gave MacLaine a Lifetime Achievement Award on June 7. Downton star Elizabeth McGovern, who plays Lady Cora, introduced the snippet while paying tribute to the Oscar-winning MacLaine, now her TV mother. The AFI award show aired this past Sunday on TV Land.
In other Downton-related news:
• McGovern made more news this past weekend when she showed off her musical chops at the Isle of Wight Festival, despite drenching rains – "From the manor to the mud bath!" read the headline in the Daily Mail.
She joined the Scottish rock band Big Country during its set on the main stage and then performed with her own band, Sadie and the Hotheads in a later gig on a secondary stage. She claimed that it was only the band's fourth paid gig.
Festival promoter John Giddings said, "As soon as I found out that Elizabeth could sing, it was a must to invite her to play at the festival. We will roll out the red carpet for Lady Cora."
• Actress Michelle Dockery, who portrays Lady Mary Crawley on the program, has been cast in Restless, a TV mini-series based on a novel of the same name by William Boyd. Her co-stars in the two-part spy drama include an elite posse of British actors: Michael Gambon, Hayley Atwell, Charlotte Rampling and Rufus Sewell. The series will air on the BBC in the UK and on the Sundance Channel in the U.S. – it's a co-production by the two – in December.
• The reasons for this last bit of Downtonmania escape us, but the opening title credits for the series have been Martin-ized in a spoof video. Yes, they've been redesigned to look like the beginning credits for Martin, the American sitcom (1992-97) starring stand-up comic Martin Lawrence.  Take a look:
——————————
How much are you missing Downton Abbey?
——————————
Read More
Filed Under: