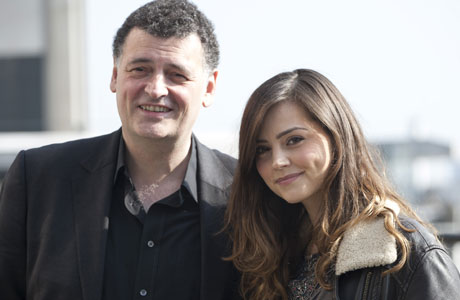 Doctor Who fans have yet to say goodbye to Amy Pond (Karen Gillan), but former Emmerdale star Jenna-Louise Coleman is already on set in her role as the Doctor's newest companion.
Steven Moffat, Doctor Who lead writer and executive producer, has rolled out the welcome mat, saying on The Richard Bacon Show (via Doctor Who News), "It's just very exciting. When a new companion comes in it sort of reboots the show a little bit, it makes you look at the Doctor differently, it makes the show feel different, that's already happening. It's literally a new beginning, you're back to chapter one, in a way it's always a story of someone getting to know the Doctor, and now it's Jenna's character. There's a lot of ways (her character) will be different, but I'm not telling you what they are! Jenna is just wonderful and spiky and salty and clever: again – just as Doctor Who always does – it becomes a different show, and I'm thrilled with her, everyone's going to be."
• James Corden, who has appeared as Craig Owens twice on Doctor Who, is a Tony nominee for his role in the Broadway transfer of his well-received West End comedy, One Man, Two Guvnors. Before a special Q&A that took place in the BBC America offices, he spoke to us about what he'll be missing back home in London while in New York City this summer.
• John Barrowman, a.k.a. Captain Jack from Doctor Who and Torchwood, was featured this weekend in coverage of the Queen's Diamond Jubilee. He chatted with us about his role in the festivities.
Meanwhile, what are John's thoughts on Andrew Garfield as Spider-Man?
• Matt Smith, Karen Gillan and Arthur Darvill give a behind the scenes look into the home of Doctor Who, Roath Lock studios in Cardiff.
• Karen Gillan has been nominated for a style award — or gong if you "speak" British — at the Scottish Fashion Awards, according to the UK's Daily Record. It is the only category that invites the public to vote. Tessa Hartmann, founder and chairman of the awards, said: "I love this year's final five fashion icons. This isn't just about style – it's about individuality, eccentricities and personality," reports the Daily Record. The awards take place at Glasgow's Clyde Auditorium on Monday. Place your votes!
• Feast on this! Each week the video blog Feast of Fiction acts out a scene from a selected TV show pairing it with their original made up recipes. Luckily us, this week's installment tackles our very own Doctor Who!
Feast of Fiction reenacts the Season Five opener "The Eleventh Hour" in which the Doctor has just regenerated and is getting acquainted with his new body and appetite.
Here is Feast of Fiction' s take on it. Do you think they captured the spirit of Doctor Who? They certainly gave us a giggle. And made us terribly hungry in the process.
• The Doctor Who Fan Orchestra are at it again, recreating Murray Gold's "Dalek Suite" for their fourth YouTube collaboration. To quote Nerdist host Chris Hardwick: "Amazeballs."
• Over the weekend Neela Debnath, UK's Independent online editor, attended the Collectormania convention in Milton Keynes, Buckinghamshire (49 miles north-west of London) where five of the actors who played the Doctor were present. Colin Baker, Tom Baker, Peter Davison, Paul McGann and Sylvester McCoy answered questions from fans about their time on the show and gearing up for the 50th anniversary.
• Speaking of Sylvester McCoy, are you familiar with his roles outside of Doctor Who? Take a look at our Life Outside the TARDIS profile of his scene-stealing work. You can catch him later this year in The Hobbit.
• They aren't really "rogues," per se, but we featured the Judoon as the latest monster in our ongoing series. A platoon of rhino-headed men in black leather goth gear, with six-packs and KILTS? Absolute genius.
Read More
Filed Under: