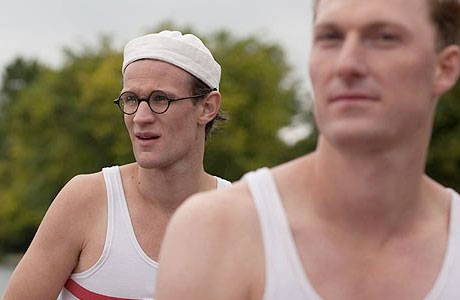 Now here's a sartorial statement we're not sure if even the Doctor can pull off. It's Matt Smith (and Sam Hoare) in his Olympic vest, as part of the new BBC America drama Going For Gold – The '48 Games (originally titled Bert and Dickie in the UK), which concerns itself with the relationship between 1948 Olympic oarsmen Bert Bushnell (Smith) and Richard "Dickie" Burnell (Hoare).
Matt told Radio Times that they've both had to train very hard, with actual rowers, just in order to stay afloat, let alone act convincingly:
"Just even to stay in the boat is a very hard skill because it's all about balance, which is what the film is about – if you're not a team then you're dead."
There's a lesson for all of us in this. Here's the UK trailer – Going For Gold – The '48 Games premieres Wednesday, July 25 at 8/7c on BBC America:
http://www.youtube.com/watch?v=LLzPW3L7Zmc
• If you've read any rumors about Sherlock star Lara Pulver being lined up to play a female Doctor when Matt Smith's TARDIS tenure is finally up, you can go ahead and forget them right away. It's all bull, as she has been at pains to explain. Not that she'd turn the role down if offered, natch…
• Encouraging news from Steven Moffat, on Twitter. Be ready: "See this new monster I've invented? This is a GOOD one. This will SCARE you. Oh yes."
That's a new monster, and not the old monster that is widely rumored to be making a reappearance in the new series. Do not click on the link if you don't want to know who it is.
• Speaking of old monsters, Rogues Gallery has been taking a look at the reasons why the Cybermen are such a massive part of the Who mythology. Basically they're a scary warning about the future, and they look like they're crying…
• Who wants to see an awesome Dalek and TARDIS quilt? Thought so.
• What do you get the Whovian who has everything? This.
• Here's a weird thing, we came across an old sketch by Stephen Fry and Hugh Laurie, from a mid-'80s episode of the comedy show Saturday Live. I can only assume that the Doctor is something of a Stephen Fry fan, sartorially speaking:
• This week's Life Outside The TARDIS subject is the ever-versatile Christopher Eccleston, who has played everything from a Borrower to a Beatle.
• Apparently, the great Scottish actor Dougray Scott turns up in the next series of Doctor Who, and he was able to reveal a nugget of info on his character on the Britain's This Morning chat show:
• Walt Ribeiro is known for posting his witty classical arrangements of pop songs on his website For Orchestra. (Check out his versions of "Rolling in the Deep" and Rebecca Black's "Friday.") But this time, he's done a very bold take on the Doctor Who theme:
• Start warming up, musicians: the Doctor Who Fan Orchestra is inviting you to take part in their latest online collaboration, a performance of Murray Gold's "The Impossible Astronaut (Suite)." Visit thedwfo.org for more info.
Read More
Filed Under: