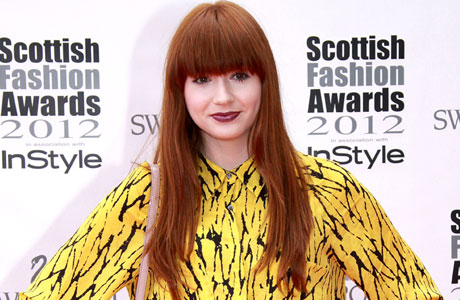 Karen Gillan (Amy Pond) certainly looks smashing in clothes, and folks are taking notice of her quirky sense of style. Well, the Scotland-born Doctor Who beauty was named the Scottish Fashion Icon of the Year at the Scottish Fashion Awards in Glasgow.
Glasgow may not rank with Milan, New York, and Paris as a global catwalk capital, but Karen says her countrymen have an edge when it comes to producing innovative duds. Speaking to the Scotsman: "I'm from quite a rural area and we're quite cut off from a lot of things and I really think that that goes towards having an imagination, and if you look at how many designers actually come out of Scotland, it's a really high number and that's really interesting."
For a full look of Karen in all her leggy glory at the Scottish Fashion Awards, here's a snap: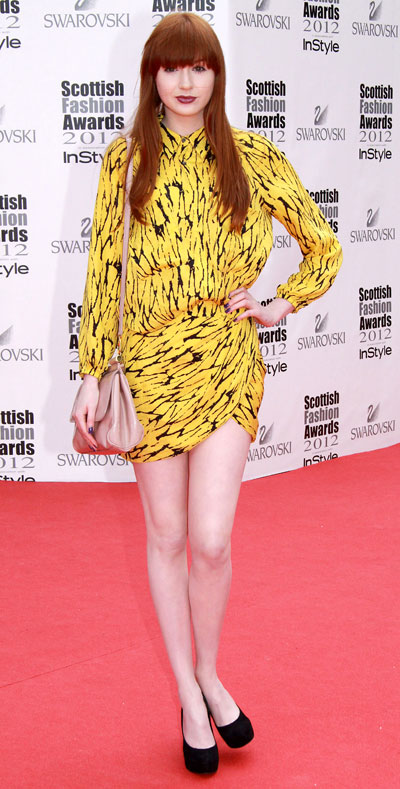 • BBC America premieres its hot British celebrity countdown The Brit List: 20 Sexiest tonight at 10/9c, and Doctor Who fans have many reasons to tune in. No. 1, our own Captain Jack, John Barrowman, is a celebrity commentator for the special, and he is serving up major cheek appeal. No. 2, "The Women of Doctor Who" make the list. Here's a clip.
"Who doesn't want to be slapped about by a Doctor Who assistant?!" says Barrowman. "That's my dream."
• When we were last in Cardiff, we asked Matt Smith and Arthur Darvill their picks for the sexiest Brit of all-time. Watch below:
• Matt Smith, Arthur Darvill, David Tennant, and John Barrowman are all competing in this year's Anglo Fan Favorites tournament. Round 1 voting ends Wednesday at 11 am ET, so get voting here!
• Stormaggedon would be proud: congrats to James Corden, Doctor Who's own Craig Owens, on his Tony win for Best Actor in a Play for his role in Broadway's One Man, Two Guvnors. Watch our interview with him right after he won!
• So we've seen our first photo of Matt Smith and Jenna-Louise Coleman on the set of Doctor Who. Here's what Matt told the BBC about working with his new companion: "It is going well. Jenna brings a really different energy to the show — one which I think is very interesting."
• Gearing up for the new season, Neela Debnath who writes for the UK Independent, has taken on the quest to review one episode from each of the previous 31 series. Debnath plans to "offer readers a snapshot from every series."
• David Tennant, a.k.a. Matt Smith's predecessor in the role of the Doctor, has done a pretty revealing interview with Britain's Radio Times magazine. He opens up about his time on Doctor Who and the pros and cons of success.
"I'm very glad it happened," Tennant said. "Mercifully, I haven't been typecast and it opened more doors than it closed. I was never bored, but I wanted to make sure I left before it became a job. It's still thriving and Matt Smith is brilliant in the part."
He added: "Of course I lost a certain amount of right to privacy, which is not what I'd choose, but I accept. No one can teach you what it's like to be observed in public. I remember, before I was that person, watching well-known people walk into a room – you imbue them with inner confidence and a slightly royal presence. Yet when it's you, it's terrifying. The world's perception of you has changed while you remain the same."
• The Nerdist's YouTube channel has a cool new web show hosted by Chloe Dykstra called… wait for it… Just Cos. And this week's episode is all about "Cosplay Coupling," and an assortment of Whovians are interviewed about pairing up with other fans in costume. Audio might be slightly NSFW, so use headphones.
Read More
Filed Under: