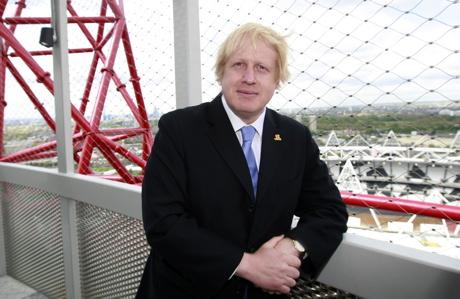 Boris Johnson isn't just London's mayor – he's the city's de factor ambassador and, with his seventh book, Johnson's Life of London: The People Who Made the City Who Made the World, he joins a long line of erudite chroniclers of London's history.
As the title of the book implies, Johnson believes that over the centuries London and its inhabitants have had wide-ranging influence all over the planet.
Last week, he told David Letterman: "I regard America as the proudest creation of London."
During his recent trip to New York City, he basked in the knowledge that the Big Apple is following London's lead in instituting a bicycle-sharing plan, which he said has increased bike use in his burg by 15 percent last year alone.
"It will civilize the place," he told New York's public radio station. "It will improve the atmosphere. There's nothing more immediately redolent of a village than loads of people wobbling around on bicycles."
But he also weighed in on New York Mayor Michael Bloomberg's plan to ban the sale of large sugar-laced beverages.
http://www.youtube.com/watch?v=8Av0-HGN0js
"It sounds, on the face of it, like a pretty hysterical piece of nanny-statery," wrote the Conservative mayor on his blog. "For those of us who are instinctively libertarian, it is all a bit difficult – at least philosophically."
But Johnson went on to write that Bloomberg's smoking ban has been adopted around the world and says that next year, when London implements a new anti-obesity strategy, he will consider  downsizing soda.
Yet on The Daily Daily Show, under a barrage of jokes from Jon Stewart, Johnson said, smiling, "Refugees from the soda tyranny in New York will have sanctuary in London."
At which point Stewart, who had pointed out that Bloomberg's proposal would impose tougher penalties for selling oversized sodas than for possessing marijuana, declared London to be "the Amsterdam of Mountain Dew." He also suggested that the mascot of the 2012 Olympics should be a "walking Big Gulp with open arms."
Read More
Filed Under: