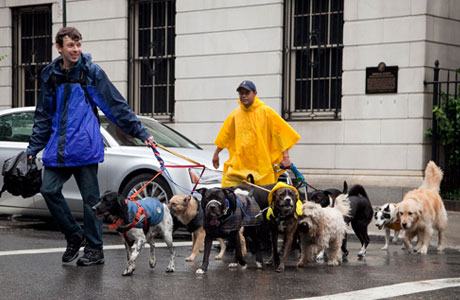 Want to feel like an old hand in your new land? Identify the clued-up locals who can help you with everything – from fixing a leaky tap to providing your daily caffeine hit.
A handyman
If you can't tell a spanner from a wrench and an overflowing toilet makes you panic, sob then go into denial, you'll probably want to outsource any mending jobs. Even if you are down with DIY, plumbing and electrics are different here, so you might need help. Consult sites like Angie's List for recommended people in your area.
A barista
If you've only tried diner coffee then you might be laboring under the assumption that all American java taste like it's been filtered through cat litter. Not true. Look for the coffee shop with the longest line and get queuing.
A babysitter
Back home you probably relied on friends and family to sit your sprogs for free. Unless you can quickly rustle up replacements, you'll be staying in a lot. Alternately, vet strangers and pay them. Check local mommy forums and blogs for recommendations.
A dog walker
If the first friend you make in the U.S. is a furry one, be sure to make provisions for while you're at work. Investigate doggy day-care or trust a professional walker (read: unemployed graduate) with your house keys and pooch.
A doctor
Use Yelp and other review sites to identify which neighborhood GP – or primary care physician, as they're called here – is reckoned to be the best. Get on their books before you're ill because they may not be taking on new patients by the time you are. Ditto for dentists.
A housekeeper
If you're up to your white collar in work and social engagements then you won't have time for housework. Perhaps it's time to get a cleaner. They'll also be able to advise you on which American cleaning products are best, so no more having to guess whether Tide is better than some other laundry detergent you've never heard of.
A manicurist
Unkempt claws are fine if you're a U.K.-dweller. Here, though, fingers and toes need to be kept presentable or people will assume you're some kind of serial killer.
A hairdresser
For the tress-conscious expat, leaving a trusted coiffeur behind can be an almost unbearable wrench. Unless your British chopper can personally recommend a stateside successor, you'll have to accost strangers with nice hair and beg them to hook you up.
A bartender
Spirits aren't measured here, so that whiskey you ordered might arrive looking like it was poured for an alcoholic ogre. If not, you can do better elsewhere. Always befriend loose-wristed servers – preferably ones who'll ask you about your day, like they do in films. Tip a dollar a drink and there's an unwritten rule that the fifth round is free.
A neighborhood know-it-all
This special someone will be able to tell you where to find all of the above. Shower them with muffins and cute British-isms until they give up their secrets.
Have we missed anyone? Tell us below:
Read More
Filed Under: