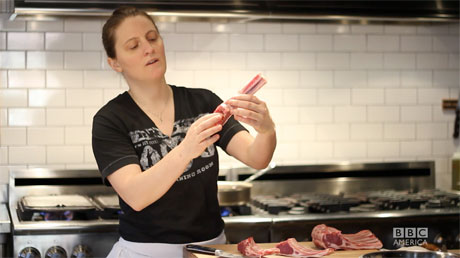 In the third part of our series profiling British chefs in New York – see our previous installments with Nobu's Matt Hoyle and Chip Shop's Chris Sell – culinary rock star April Bloomfield shows us how to wield a mallet and pound the hell out of some lamb. Back in 2004, Bloomfield became the hippest executive chef in town as co-owner of The Spotted Pig, the Big Apple's first gastropub. (Jay-Z, Fatboy Slim, Bono, and Michael Stipe were among the hotspot's early investors.) The Pig, which boasts sinewy UK pub grub with nods to Italy, has been filled to capacity with celebs, foodies, and tourists ever since.
Now, Bloomfield is offering amateur chefs the tools to bring her culinary creations to life in their own kitchens. Her cookbook A Girl and Her Pig – the cover of which shows Bloomfield with a swine slung around her neck – features more than just pork, of course. Bloomfield kindly invited us into her own kitchen to show us how to prep lamb chops with a fragrant chimichurri sauce. (And yes, she totally gets gangsta with a mallet.) There's a full text recipe below the video, for reference.
April Bloomfield's Lamb Chops with Chimichurri
Serves 4
12 frenched rib lamb chops (about 2 1/4 pounds)
Kosher salt
Chimichurri (see recipe below)
1/2 lemon, if you'd like
One at a time, put the chops on three layers of plastic wrap, fold the plastic over the chops, and use a heavy pan or mallet to lightly whack the meaty portion to an even thickness of about 1/2 inch.
Preheat your grill to high (preferably, build a charcoal fire and let the coals turn pale gray) or heat a cast-iron griddle over high heat. Let the grates or griddle get good and hot.
Generously season the chops all over with salt. Working in batches if need be, cook the chops, turning them over once, until the exterior is deep brown and the fat is golden, just about a minute or two per side. I like them medium, pink all the way through. Arrange them nicely on a platter.
Stir the chimichurri well, have a taste, and add a little more lemon juice, if
you'd like. The extra brightness is nice with the lamb. Drizzle some on each chop
and eat right away.
Chimichurri
Makes about 1 cup
1⁄3 cup tightly packed very finely chopped shallots
(about 2 medium shallots)
1/2 teaspoon very finely chopped garlic (about 1 medium clove)
2⁄3 cup extra virgin olive oil
A big handful of small, delicate flat-leaf parsley sprigs
A big handful of mint leaves
1 teaspoon seeded and finely chopped habanero chili
A generous pinch of Maldon or another flaky sea salt
2 tablespoons freshly squeezed lemon juice, or to taste
Combine the shallots, garlic, and olive oil in a bowl.
Toss the herbs together on a cutting board (this will keep your mint from going brown on you) and chop them very fine. Add the herbs and habanero to the bowl and stir the mixture really well. Add the salt, then let the sauce sit for a few minutes or up to 2 hours while the herbs get to know each other. Right before you are ready to serve it, stir in the lemon juice. Taste the chimichurri, season it again with salt and/or lemon juice if you need to, and serve.
Read More
Filed Under: