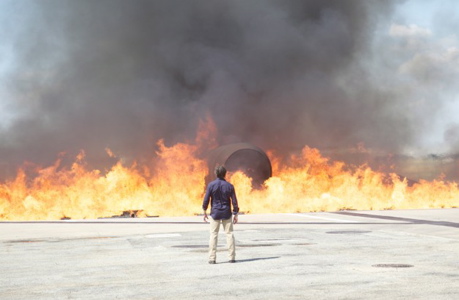 "I'm off to a good old-fashioned Texas barbeque," said Richard Hammond of his challenge in next week's Crash Course (premiering Monday, May 7, 10p/9c).
He was referring to his experiences with the Oshkosh Striker 4500, the world's most powerful fire-fighting machine. It was given the number after its name because its water tank has a capacity of 4500 gallons. It has another tank that holds 630 gallons of foam, and it can also carry 500 pounds of dry fire-fighting chemicals.
As the graphic above demonstrates, the Striker 4500 weighs 60 tons and costs $1.2 million. And normally it takes a trainee six months to get certified to operate one. On Monday, you'll watch as Richard tries to master this conflagration-battling behemoth in a mere three days.
• Richard continues to garner praise from the people who teach him how to handle the massive vehicles on Crash Course. As you'll recall, in this week's show, Richard learned all about landfill machines, and his instructor, Chris Gronquist, who taught him at Denver's Regional Landfill, says he was "pretty impressed" with the Top Gear host's "pretty good job."
"You have to be good with your reactions and good with your hands and feet. There are multiple things going on. It was cool how prepared he was to learn to be safe about what he was doing," Gronquist told BBC America. "All in all, he did a pretty good job due to just the sheer fact that he was willing to learn."
Gronquist added: "It's very rare that you put someone up in a cab and turn him loose in a couple of hours because they're doing so well."
• On next week's episode of Top Gear (airing Monday May 7 at 8:30p/7:30c), Richard and Jeremy Clarkson visit the set of The Sweeney, the new movie based on the UK '70s police TV show. The boys are there to act as stunt coaches to the star's of the movie's climactic car chase.
Also, on Monday's show, James May tests the new Vauxhall Corsa VHR Nurburgring and Fiat Panda. And Ryan Reynolds, the hottie of such movies as Green Lantern and The Proposal, is the week's Star in a Reasonably Priced Car.
Here's some more Reynolds hotness behind the wheel. He says he does something funny every time he shifts gears – do you agree?
• And speaking of Star in a Reasonably Price Car, the poll results for your favorite star are in, and you have spoken (or clicked). So who won? We'll give you hints to see if you can guess. No. 5 – there's something about this star. No. 4 is a knight-rider. Who is No. 3? (Think Abbott and Costello here.) No. 2 is on cruise control. And No. 1 is just plain silly. Click here for the top 10.
• Is The Stig, like Top Gear itself, a truly international phenomenon? Can he be exported, outsourced, or assembled overseas? Or is it more a case of each country getting The Stig it deserves? Think about it, and get back to us. But in the meantime, take a look at The Stig's Chinese cousin in this week's show:
• To prepare for next Monday's episode of Crash Course, you might want to see whether you can win at BBC America's exclusive Striker Inferno game. In it, you are the operator of the enormous fire-fighting vehicle, as meteor-like fireballs rain down on an airport. See if you're as skillful at operating the Striker 4500 in the game as Richard Hammond is in the show. You're the last line of defense. Since we first learned about the game, we haven't improved all that much. Unless they're going to change the name of the airport to Fireballs of Destruction Airfield: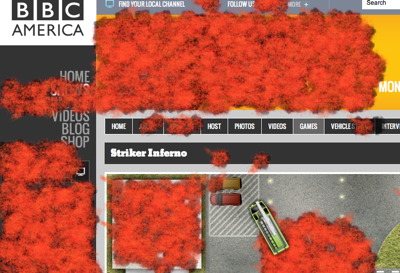 • Striker Inferno isn't the only incredibly difficult game we've got on our site. For each week of Crash Course, we've offered what we call "Sneak Peak Scrambles," which are online photos of Richard posing with one of the vehicles from the show. The photos are in square pieces and all mixed up, and you have to move the pieces around to put them in the correct order. It's not as easy as it sounds. This week's puzzle is a photo of Richard with the Striker – click here to play.
And here's the puzzle for  Richard with the Abrams tank:
• Speaking of games, TopGear.com offers a Stunt School High Jump Game. As the name implies, you have to maneuver your car in a (very) high jump. Here's our car in the air:
And here we are, hitting the ground:
• And also speaking of games, have you gotten your new Top Gear add-on car pack for Forza Motorsport 4? It's been out since Tuesday. Here are the new cars in action, courtesy of MOTOGAMESTV:
• If virtual competition just isn't doing it for you anymore, it's not too late to enter BBC America's Rate My Ride Giveaway. All you have to do is give us a short (150 characters max – hey, we give you ten more than Twitter) description of why you and your ride are so cool, along with a photo that should support your case, and you could be a winner.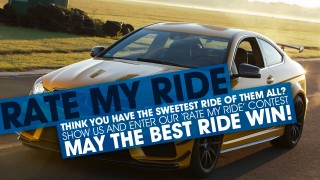 You have until this Sunday, May 6. Complete information, and the online entry form, are here.
Read More
Filed Under: