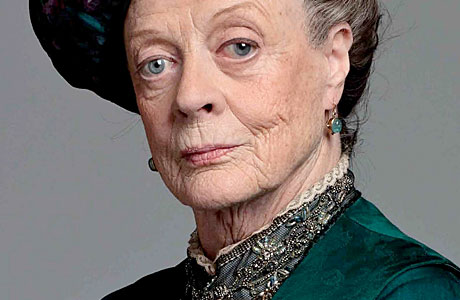 Full disclosure: the original title for this was "Five Great British TV Mothers," which is perhaps more factually accurate, but could be misleading if you came of age in the '60s, or listen to a lot of hip hop, so matriarchs it is.
The Right Honourable Violet Crawley, Countess of Grantham – Downton Abbey
http://www.youtube.com/watch?v=TVMtffzbAwk
Poor Lord Grantham. It's tough enough living with your parents once you're well into adulthood, but when your mother is the sharpest-tongued Lady Muck from Muckfordshire, you have to question who is really in control of your household. Naturally for anyone looking in (that's us, the viewers), it's always a delight to watch Dame Maggie Smith tear a strip off everyone in sight, and long may she continue to do so.
Pauline Fowler – EastEnders
Oh and speaking of Maggie Smith… You see how she is in Downton Abbey? Well put that same attitude into the lady that runs a launderette in the East End of London and you've got Pauline Fowler, who was played with sourpuss zeal by the late Wendy Richard. And may I also say that if this was the infinite list of all possible contenders, Peggy Mitchell (Barbara Windsor) would be on it too.
Pam Shipman – Gavin & Stacey
http://www.youtube.com/watch?v=wyFx315CKUA
A devoted mother to her darling boy Gavin, Pam will go to extreme lengths to maintain whatever facade she's created, even pretending to be vegetarian after a little comedy of manners at the first meeting with Stacey's family leaves her too flustered to be honest. The main reason we love Pam, apart from Alison Steadman's delightful performance, is that she's half panicked internal monologue, and half bullish confidence, all wrapped up in a fizzing ball of energy. Plus you just know she'd rip the eyeballs out of anyone who dared to upset her darling Gavin.
Nellie Boswell – Bread
A trip back to the '80s now. Bread was a hit comedy which revolved around the Liverpudlian Boswell family, of staunch Catholic stock, at the head of which sat the fearsome Nellie (played by Jean Boht), wronged by her husband but supported by her loving family. Every episode featured at least one mealtime scene like this, in which the day's events were processed by Nellie into her prayers, and everyone was expected to put money in the ceramic chicken, for the common good. That's how you pull together in a crisis.
The Monsoon Family – Absolutely Fabulous
http://www.youtube.com/watch?v=HN_2gkCr0Mc
It's tempting to put forward the theory that the whole of AbFab is actually about motherhood. You've got Saffy acting like the sensible matriarch, in the absence of any such behavior from her actual mum Edina, who clearly still believes she's in the prime of life, that every impulse must be acted upon, and that this is all that matters. And then there's Edina's mum (played with dotty glee by June Whitfield). You couldn't ever say she was in charge of the household, but her opinion seems to matter to Edina in a way that Saffy's never quite does. Then there's Patsy, the free spirit who never had kids, and Bubble, the innocent babe.
There again, it could just as easily be about crazy women being crazy. Subtext isn't always very useful.
Go on then, who did we shamefully omit?
Read More
Filed Under: