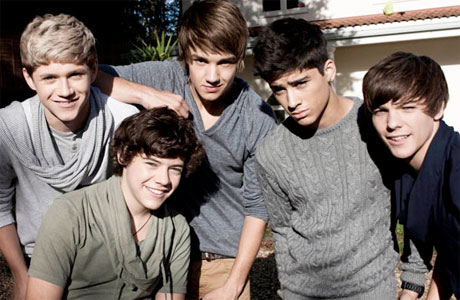 A brief admission, so that you know my heart is pure. I don't like TV talent shows. The part of a star's progress during which they are taken from the unscrubbed reality of real life and thrust into (an oddly steroidal version of) the limelight is not the bit I like. Plus it's a TV show, and therefore demands familiar songs done in a relatively familiar way, otherwise viewers will switch channels. This is a problem. Pop music is as much about fresh songs as it is about fresh singers.
Also, unless you're showcasing a talent of rare distinction (and you can't always have that, otherwise it wouldn't be rare), most of time, the show's narrative is devoted to an upward climb followed by a sharp fall, for every participant except the one who wins, and they don't really get to show what they can do until the credits have rolled and the spin off single has fallen from the charts. That's when I start to pay attention. It would, after all, be a pretty poor show if the last decade of reality pop talent shows had failed to unearth anyone decent whatsoever.
So, as it's the American Idol finale this week, which means the possibility of a hot new star being unleashed on the world, and as this is also the week that sees 2010's British X Factor winner Matt Cardle shopping around for a new record deal, here are five British acts who actually make Simon Cowell look good:
Will Young
The second big British reality TV show was Pop Idol, following the documentary-style Pop Stars, which unearthed a cheesy pop band called Hear'Say, and a slightly less cheesy pop band called Liberty X, and a hugely cheesy singer called Darius. It's fine that they were cheesy, of course. Pop has cheesy at it's core the way a cheeseburger has. Anyway, Will Young was the winner of Pop Idol, and at first, despite a pleasingly tremulous voice, there were few signs that he was anything other than another cheesy singer from a TV show. Then came the songs – "Leave Right Now," "All Time Love," "Jealousy" – and the film roles.
Girls Aloud
There's an argument to be put forward that the arrival of Girls Aloud not only raised the stakes for all reality pop, but all pop in general. It's hard to overstate the impact of their debut single "Sound of the Underground" in pop, bearing in mind it was released at a time when indie had gone soft (Travis, Coldplay) and boybands and rappers ruled the roost. Where was the provence for surf-guitar and hard rumba rhythms? And they got BETTER, which is unheard of in modern pop.
Leona Lewis
Leona, sadly, did not get better. But then she started from a fairly lofty perch. So extravagantly gifted a singer that her stint on The X Factor was characterized by a finger-drumming wait for her to win, she's the sole reality TV discovery that has validated the format as an actual talent search in the UK (rather than an entertaining TV show about a talent search which does not actually have to unearth talent). And she came good on that early promise by releasing "Bleeding Love" and scoring a worldwide hit. OK, so she's not exactly Iggy Pop in the character stakes, but then he's not exactly Leona Lewis in the singing stakes. Swings, roundabouts…
Susan Boyle
Another worldwide phenomenon, albeit one which still feels enormously stage-managed, and not a little mean-spirited to boot. "OH MY GOD," shrieked media organizations, dazzled by Simon Cowell's cunningly bemused face "HOW CAN AN UGLY WOMAN BE TALENTED? DOESN'T SHE EVEN KNOW SHE SHOULD BE LAUGHABLY BAD? THIS IS BEYOND ALL UNDERSTANDING OF THE WORLD AS WE KNOW IT!!"
And of course, the game plan with SuBo seems to have been to keep her wheeling out the unusual cover versions, and to constantly emphasize the rags-to-riches life story (justifies the emphasis on her supposed ugliness, y'see), to try and milk those confounded expectations for as long as possible. Why, it's almost as if no one has any faith in her ability to move people by singing alone.
One Direction
Not the winners of their particular talent show either, Wand Erection came third to Matt Cardle in 2010, but have proven to be such an attractive proposition among post-Justin Bieber pop fans (who don't really care who wins the X Factor) that they've effectively become Britain's biggest pop export after Adele, or possibly third after Florence. Never the bride, is my point…
Who did we miss? Gareth Gates? Little Mix? Tell us here:
Read More
Filed Under: