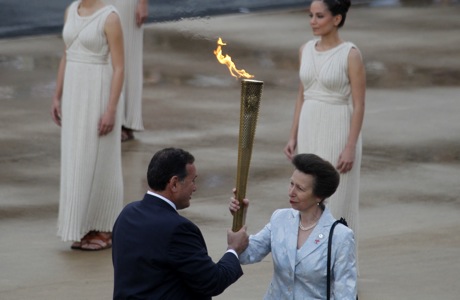 In a rainy ceremony in Athens that included school children singing "God Save the Queen," Princess Anne accepted the Olympic torch on Thursday as it was symbolically handed over to London.
The Princess Royal is heading the delegation that is bringing the torch to Britain, where it is scheduled to arrive on Friday afternoon. Also in the delegation are soccer star David Beckham, London's mayor Boris Johnson, and London Olympic chairman Sebastian Coe.
Princess Anne, president of the British Olympic Association, was also an Olympic competitor herself, who rode on Britain's equestrian team in the 1976 Montreal Olympics.
She said she couldn't imagine competing in more recent Olympics.
"I'd hate to be doing it now, that's all I can tell you. I think there's so much [pressure] to everybody," the Telegraph quoted the princess as saying.
"All the things the electronic media have opened up simply didn't exist when I was doing it," she said. "Some people do find it a help, I am sure, but I suspect for others that's a difficult level of intrusion to manage."
Members of her delegation had only high words of praise for the Princess Royal. Lord Coe said she was crucial because "she sees the world through the eyes of a competitor" and sports minister Hugh Robertson said she was essential in delivering London's successful bid.
"She is one of the great unsung heroes of this whole process," said Robertson. "She has played a remarkable role in this, and it is completely unheralded and largely unthanked."
The princess carried the flame out of the stadium after it had been transferred from a torch to a lantern. It was then taken to the British ambassador's residence in Athens overnight. From there, it's being flown on a special jet, with a gold-painted nose, British Airways flight 2012. While on board, the flame, protected in a miner's lantern, will have its own seat, as well as a dedicated guard, reports the Associated Press. The destination is Royal Naval Air Station Culdrose in Cornwall, where the princess formally delivers it onto British ground and where David Beckham will use it to light a cauldron.
The torch will then be taken to Land's End, England's most western point, where on Saturday morning it will begin its 70-day, 8,000-mile journey through the UK, ending on July 27 at London's Olympic stadium.
Read More
Filed Under: