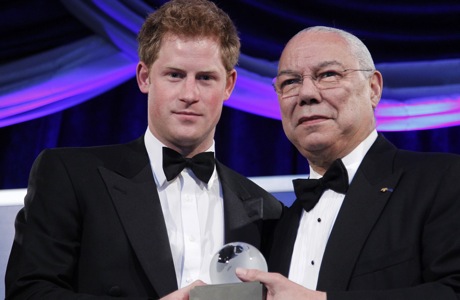 Prince Harry received a prestigious award in our nation's capital last night, but the young royal's acceptance speech emphasized his belief that the real honors belong to soldiers injured in war.
"Sooner or later the coverage of them in the media will diminish or cease," the Prince told the Atlantic Council. "They will no longer be at the forefront of our minds."
Colin Powell presented Harry with the council's Distinguished Humanitarian Leadership Award for his efforts to help wounded soldiers.
"For these selfless people it is after the guns have fallen silent," Harry said, "that the real fight begins, a fight that may last for the rest of their lives."
In introducing the Prince, the former Secretary of State praised "the loving effort that Princess Diana made to teach her sons the importance of serving others has touched [their] hearts and souls."
Harry, a captain in the British Army who has served in Afghanistan himself, has been active in focusing attention on soldiers injured in combat. Last year, the Prince embarked on an icy trek with a team of veterans wounded in Afghanistan in a region of the Arctic nicknamed "The Devil's Dancefloor."
In other royal-related news about Prince Harry:
• Before getting last night's award, Harry attended a reception at the residence of Britain's Ambassador Peter Westmacott and met Second Lady Jill Biden. He also chatted with wounded British and American soldiers and planted a tree on the embassy lawn in honor of his first trip to Washington and the Queen's jubilee, reported Bloomberg Businessweek.
• At the same time the Prince was in Washington getting his award, he also paid tribute to a team of wounded vets who have been forced to call off their plans to complete their climb to the top of Mount Everest because of hazardous weather conditions.
"Sadly, I understand that they have been frustrated from reaching the summit by the unusually warm weather, which brings particularly dangerous conditions," Harry said. "However, the mere fact that they are up there on that fearsome peak, I find totally amazing."
Warm weather is hazardous because falling rocks are more likely without snow and ice to keep them in place.
Harry is a patron of the "Walking with the Wounded" organization, which sponsored the Himalayan climb. Harry paid a surprise visit as the team left the UK earlier this year to wish them luck. Walking with the Wounded also sponsored last year's Arctic trek. (via The Telegraph)
• On a more personal level, there are reports that Harry has gotten back together with his on-again-off-again girlfriend Chelsy Davy. The Daily Mail's Katie Nicholl said she was "told" that the two "have seen each other during the past month, although they are determined to keep things low-key."
Nicholl quotes a source as saying that Davy "doesn't really like talking about it" and that "she's been very coy."
But the source reportedly said, "The fact is they are still hugely attracted to each other and never really fell out of love."
Still, says the source, "Both are keen to keep meetings under the radar, and insist it's not an official getting back together. It's a lot more casual."
Read More
Filed Under: