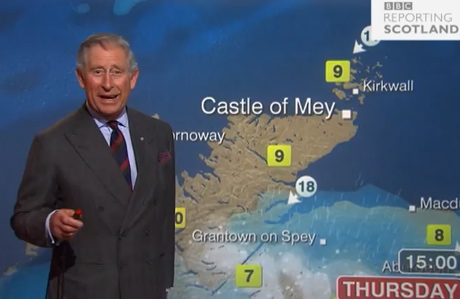 After wrapping up last week's whirlwind Jubilee visit to Canada, Prince Charles arrived back home for next weekend's festivities to some very good news: a majority of people in the UK now support him as England's next monarch.
The survey by research firm Ipsos MORI found that 51 percent think that Charles should succeed his mother as monarch, while only 40 percent would like to see Prince William leapfrog his father to the throne.
Even though it's not as if Britons vote for the Queen's successor, it's a change in perceptions about the Prince, who has often appeared to lag behind his eldest son in popular sentiment. In fact, says the Sun, which commissioned the poll, it's the first time in ten years that the Prince of Wales' popularity has decisively outweighed William's.
Support for the Charles came from almost every age group, with the largest approval coming from 45 to 54-year-olds: 60 percent chose him, while only 30 percent wanted William to succeed his grandmother directly.
The numbers, however, were nearly reversed among young people: 18 to 24-year-olds prefer William by a margin of 57 to 36 percent.
The Sun poll also showed increased support for the Duchess of Cornwall.
"Britons are also warming to the Camilla," the paper wrote, "who is quietly grafting for good causes and acting as a mentor to Kate."
In other news about Prince Charles:
• The survey didn't report the reasons for the renewed enthusiasm for Charles. For example, we don't know if his staunch environmentalism or sense of social justice played any role in the new poll numbers.
We do know, however, that even though his day job as King-in-waiting has never truly been under threat, he's also appeared to be sharpening other skills for his resume recently. In Canada, he tried his hand at being a DJ. And, around the same time his mum was opening Parliament, he delivered the weather on television while he visited the BBC's headquarters in Scotland. He had the personality and banter just right, at one point even quipping, "Who the hell wrote this script?" during the forecast for Balmoral.
• "I go my own way and stick to what suits me," writes Charles, trying his hand at yet another profession – magazine contributor. Charles, who was named one of Britain's best-dressed men by the UK edition of GQ earlier this year, has written an essay for the glossy about British tailoring.
Charles, the consummate traveler, writes that durability is a key personal requirement.
"Given the demands of my life, it is a great help if a suit looks as good at the end of a day as it did at the start; and it also has to withstand the heavy battering it can sometimes receive," he says.
But the Prince of Wales wears his environmental concerns on his sleeve, as well.
"The challenge to tailors, shirt and shoe-makers is a tough one," he he notes. "Clothes have to combine style with sustainability and I find British-made tailoring more than meets that challenge." (via The Telegraph)
• Charles and Camilla are just back from Canada – and there's still the big weekend just days away – but there are still more Jubilee responsibilities in store for the couple. It's just been announced that they'll visit Jersey on behalf of the Queen on July 18. (via BBC News)
• One of the projects near to Charles' heart is his restoration of Dumfries House in Scotland. After a plan to sell the historic property to the Scottish National Trust fell through, its owners decided to sell it off and auction its contents, including some 50 original pieces of Chippendale furniture – until Charles stepped in to halt the sale in 2007.
Tonight, ITV in Britain is airing a documentary about how the Prince saved the estate. "This film," writes The Mirror, "sees [presenter] Alan Titchmarsh follow the Prince through his wide-ranging plan not just to restore the house, but also to regenerate the entire community."
• It's not much of a surprise that Cheryl Cole gets around, but we're still amused by the quote the Guardian pulled from its interview with the celebrity singer to use as a headline: "I've dined with Prince Charles, but I've also sat in a crack den, if you like." Hey, what's not to like?
Read More
Filed Under: