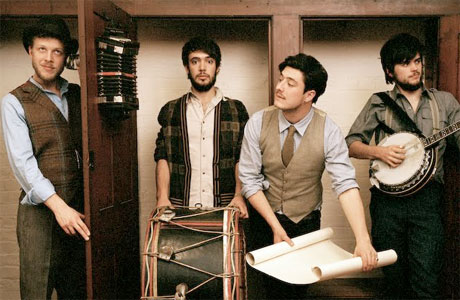 If you're a recent convert to the joys of Mumford and Sons and can't wait to hear what else they can do, you're in luck. The band have revealed – from the stage at the Pinkpop festival in Holland – that their second album is on the way soon.
Marcus Mumford told the crowd that the follow-up to "Sign No More" is all finished, with Ben Lovett, the band's keyboard player (and the fellow who runs their label Communion), revealed that the release date is set for September 24th.
Not that the band have been sitting about between mixing sessions since finishing the album, they've also contributed a song to the soundtrack of the Scottish Pixar epic Brave. "Learn Me Right" features the vocal talent of the singer Birdy, backed by the band on a Mumford original.
Oh, also at Pinkpop, the Mumfs took to the stage with Bruce Springsteen to have a go at "Hungry Heart." Here's some YouTube footage of it, although it's hard to really tell what they bring to proceedings beyond a lot of dancing and whooping:
It is, after all, Bruce's world.
Read More
Filed Under: