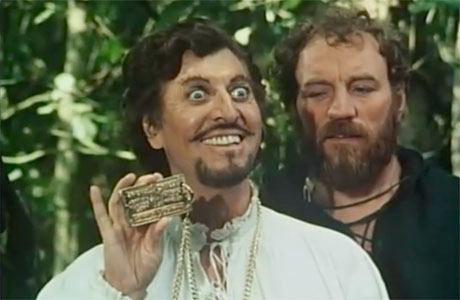 For other people in the public eye, it might not be all that relevant to cite six years of training as a monk, from the age of 15. I mean if it turned out that Alan Alda or Jack Johnson had been through such an experience, it would seem only of passing interest. Tom Baker, on the other hand, carries the fire of a thousand damning sermons in his voice, and has the lofty air of someone who used to know he was going to heaven, but enjoys the pleasures of life on Earth far too much.
And of course, all of this comes out in his astonishing work, playing a variety of holy men with sex issues, playing visionary figures with loud, resonant voices (and time machines), and most of all, playing mad men who enjoy shouting and rolling their eyes.
So, as there is simply too much to fit into one page on the internet, we present a selection, a Baker's dozen, if you like (except there are way more than 13 of them):
Here he is in 1968, making a meal out of a bad joke in the sitcom George & the Dragon:
Here he is as a singularly unhinged Rasputin (a couple of minutes in), his big break, in 1971's Nicholas and Alexander:
And here he is, a year later, being sexually harassed by the Wife of Bath (it's OK, he's about to become a Husband of Bath) in Pasolini's version of Chaucer's The Canterbury Tales. (NSFW-ish)
Here's a 1973 appearance in the self-explanatory film Vault of Horror:
And here he is, that same year, bringing a statue to life in Ray Harryhausen's fantasy epic,The Golden Voyage of Sinbad:
Also from that year came Frankenstein: The True Story, in which he played a sea captain:
And again, another 1973 movie (not coincidentally, the year before he started on Doctor Who), this time overdubbed with someone else's voice, in Cari Genitori (Dear Parents):
And even when he'd started time travelling, the movie work still came in. As in the 1974 film The Mutations:
In  1978 he appeared reading eerie tales in a short series called Late Night Story:
And if you thought the link between Sherlock Holmes and Doctor Who was forged by Steven Moffat, here's Tom proving you wrong, in a 1982 BBC production of The Hound of the Baskervilles:
Here he is in 1986, reprising his sea captain role (and then ramping it up to the moon) in Blackadder:
That same year, he appeared as Father Ferguson in the decidedly grown-up The Life And Loves of a She-Devil:
Here he is, in more child-friendly territory, providing the voice for the animated adventures of Max Bear in 2000:
And on a similar note, here's his voice again, pretending to be Zeebad in 2005's The Magic Roundabout
From 1992 to 1995, he played a regular role as consultant Professor Geoffrey Hoyt in the hospital drama Medics:
Here he is in 2000, playing Halvarth in the live-action Dungeons and Dragons film:
Of course, his biggest hit outside of the Whoniverse has been the stentorian madness of the narrator in Little Britain:
And this is before we consider his very profitable voice-over work, of which there is a TON. The man's an unstoppable force, I tell you.
Read More
Filed Under: