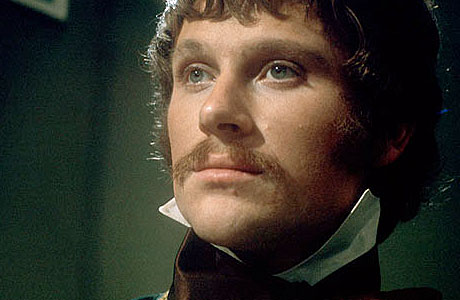 Colin Baker does haughty really, really well. I can say this with some confidence after trawling through YouTube for clips from his career, and coming up with role after role in which he fixes someone with an imperious stare, and attempts to cut them down to size using a diamond-hard tone of voice and a sneer.
Which is curious, given that he is clearly a very warm-hearted man (and the current honorary president of the Doctor Who Appreciation Society), a world away from the coldness of his characters. And if nothing else, a look at these clips serve to prove that a stern Doctor is not necessarily a bad Doctor.
Here he is in 1971, appearing in an episode of Public Eye:
And here he is in the long-running hit series The Brothers, from 1975)
This is brilliant. Here's Colin in 1975, as the imperious cortex of the human brain (the one in the middle), as part of the public information film Drive Safely, Darling, which is, as you'd imagine, about road safety:
http://www.youtube.com/watch?v=jfy0Osckk1E
And here he is in 1983's The Citadel (around the 5 minute mark):
http://www.youtube.com/watch?v=aL7f-cjhC-A
Showing off his sci-fi chops in 1980, here he is appearing as the nasty Bayban the Butcher in Blake's 7:
Enid Blyton fans, here's one for you; Colin appearing as Mr Brent in the 1994 adaptation of Five Go To Billycock Hill (6:30-ish):
And proving that The Young Indiana Jones Chronicles had an eye for former Doctors, here he is in an adventure called Daredevils of the Desert (5 minutes in):
And finally (because there is a LOT of Colin Baker to go around), here he is appearing in the 2000 comedy show Time Gentlemen Please, as Professor Baker, pub quiz champion (8 mins or so):
http://www.youtube.com/watch?v=W7ni2iwRu8k
Still authoritative, after all these years…
PS: Not forgetting the heap of video-only films he made, directed by Bill Baggs, in which he plays the Stranger alongside a metric tonne of former Whovians. Here is just one brief example:
http://www.youtube.com/watch?v=hkojmlZvXy0
More examples please!
Read More
Filed Under: