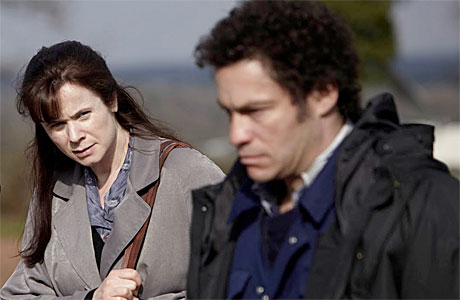 OK, possibly that headline overstates the case a smidge, but tonight's BAFTA TV awards did see Appropriate Adult, the dramatisation of the lives of serial killers Fred and Rosemary West score three of the most notable trophies, and against some phenomenal competition.
Dominic West (no relation) took the Leading Actor award, which would be impressive enough, had Emily Watson not taken Leading Actress, AND Monica Dolan walked off with Supporting Actress.
Dominic and Monica both made serious points about the wider implications of depicting these truly awful crimes, with Monica ended her tearful acceptance speech by pointing out that "some of the girls that went missing had been unreported for 25 years. I'd like to live in world where everyone is missed."
Oh and because he was up against a certain beanpole detective from Baker Street, Dominic's speech began with a humble thought: "even my sister was rooting for Benedict. She's watching now, in Miami, with eyes full of tears."
Not that Sherlock was unrepresented either. Andrew Scott won Supporting Actor, for his impish turn as Moriarty. He beat Martin Freeman's John Watson, which seems a bit unfair in one sense, but also entirely in keeping with the character. His speech was very touching, and a little teary. Probably part of some evil scheme or other.
Steven Moffat won the Dennis Potter Special Award, which was presented by a wise-cracking Matt Smith and Benedict Cumberbatch together, clearly very at ease in each other's company.
Steven's acceptance speech, as befits a writer of his calibre, was blessed with a number of sizzling lines, not the least of which was "Sherlock Holmes and Doctor Who giving me an award? That is ABSOLUTELY BRILLIANT!"
Look at his little face!
Let's see now, what else happened. Ah yes!
Drama Series was won by The Fades, the thing Doctor Who's Caroline Skinner was working on before she started at Doctor Who. We can chalk this up as a Whovian win.
Biggest stage invasion of the night came from the cast, crew, family, friends, and associates of the sitcom Mrs Brown's Boys, who won the Comedy Series award. Some of them are probably still there.
The Danish political drama Borgen won the International Programme trophy, beating your Modern Family. Try not to take it personally.
Coronation Street took the Soap and Continuing Drama award, which is remarkable for a programme in its 52nd year. Single drama was won by Random (an actual drama, not the way they decided on a winner) and Sports and Live Events was won by the Royal Wedding. WELL OBVIOUSLY.
The Young Apprentice, the junior version of The Apprentice, as you could probably have worked out for yourself, won the improbably-titled Reality and Constructed Factual award. Sir Alan Sugar, in accepting it, rubbed his victory in the noses of everyone present, pointing out the long years they'll have spent beavering away in the world of TV, during which time he was a successful businessman. Well you don't get awards for charm alone.
Mini Series went to Shane Meadows' This Is England '88 (and not Appropriate Adult, surprising a few people). He was clearly just as amazed  as anyone, telling the audience that he'd been told if you weren't papped on the way in, you hadn't won. And he wasn't papped.
The illusionist Derren Brown won the award for Entertainment Programme for his show The Experiments, in which he performs psychological tests on various victims (his word, one of whom was brainwashed into an attempted assassination attempt on Stephen Fry. And yet, even though Mr Fry remains very much alive, he still gets an award. Bizarre.
Jennifer Saunders won the Female Performance in a Comedy Programme for the resurrected Absolutely Fabulous. She appeared entirely suprised by this, despite it clearly being a popular win.
Another BBCA fave, Graham Norton, won Entertainment Performance, but could not collect it as he was still recovering from commentating on the Eurovision Song Context. He'll be a while doing that.
Then there were gongs for (the very, very good) Stewart Lee's Comedy Vehicle (Comedy Programme), the very odd Celebrity Juice (Audience Award), the post-League of Gentlemen macabredy Psychoville (Online), the front-line documentary Our War (Factual Series), and the slightly odd, but very charming national cakeathon, The Great British Bake-Off (Features). Darren Boyd (who you may have seen playing John Cleese in the Monty Python comedy drama Holy Flying Circus) won Male Performance in a Comedy Programme for the espionage spoof Spy.
Channel 4 News won an award for their coverage of the Japanese Earthquake, as did the BBC's Panorama for a special programme about abuse in care homes. The Single Documentary award went the the team behind Choosing To Die, the documentary about the author Terry Pratchett.
Which just leaves the Membership of the Academy award, given this year to Rolf Harris. If you don't know who he is, try and imagine Justin Bieber, right, if Justin Bieber was funny, had a goatee beard, was good at painting and came from Australia, and had had a career making comedy records (it's a stretch, I know), and performing in vaudeville-type stage revues, which became vaudeville-type TV revues, before making a ton of groundbreaking children's TV shows about art and cartooning, appearing at Glastonbury (several times), making public information films about learning to swim, being the face of a hit documentary series about a veterinarian surgery, crying on camera, having a hit cover of "Stairway To Heaven" and painting a portrait of the Queen. That's Rolf Harris.
Read More
Filed Under: