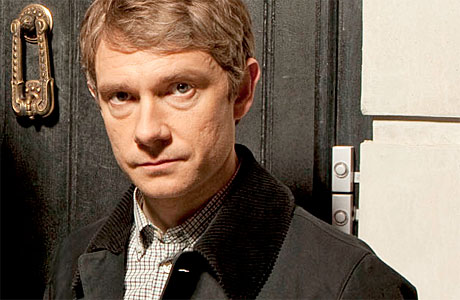 Way back in 2001, when The Office was just taking off as a global concern and acting work was starting to flow towards the singularly talented Martin Freeman, he took a role in Sasha Baron Cohen's first movie, based on his gangsta wannabe character Ali G.
Ali G: Indahouse was a scripted affair, a farce closer in spirit to Sasha's recent movie The Dictator than either of his staged-reality affairs: Borat or Bruno. And as he was playing a suburban white boy with delusions of ghetto cool, his choice for the character of Ricky C, Ali's best mate, was Martin (who is in reality a soul-boy from the military town of Aldershot).
Which is all the explanation you are going to get for this scene, in which the future John Watson, Arthur Dent (movie version) and Bilbo Baggins demonstrates some not-altogether-shabby beatboxing:
Sadly, it was not for this performance that Martin won his Best Supporting Actor award at last year's TV Baftas. That was for Sherlock:
http://www.youtube.com/watch?v=OukApItVDIg
And yes, ISN'T he lovely?
Read More
Filed Under: