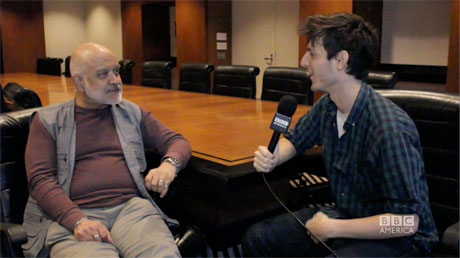 On November 23, 1963 (the day after the Kennedy assassination), the very first episode of Doctor Who premiered on the BBC. And the man behind the camera was Waris Hussein, then only 24 years old, completely unaware of the phenomenon the show would become and the legions of fans it would acquire. Well, here he is, with almost 50 years of hindsight, chatting with Anglophenia's Jon Sarlin about the series' origins as an educational program for children, casting William Hartnell as the Doctor ("he was very reluctant to accept this part…he was an established movie star"), and how the fan base has evolved over the years.
• Michael McShane, the man who played the portly Friar Tuck in the Kevin Costner movie Robin Hood: Prince of Thieves, has been tweeting about his forthcoming appearance in Doctor Who, even going far enough to risk revealing a secret or two: "Spoiler Alert for Dr Who; in my episode the Doctor finds he's got a;:/;;zapppppp GACK. sizzle,hissssss……"
Oh, what a shame. Some kind of cosmic interference, clearly.
• Meanwhile, one actor who definitely won't be making an appearance is John Simm. He had been listed on IMDB as appearing in the new series, but denies there's any plan for him to return as the Master. He explained to Twitter "In reply to many, regardless of what it says on imdb, No i'm not returning to Dr Who. Got absolutely no plans to do so #hopthatclearsitup"
• Stop what you're doing a second, and take the time to read this interview Radio Times did with Katy Manning, the former Jo Grant, companion to the Third Doctor. It's just about the most endearing read ever, and does not stint on the startling revelations.
She does also say this, about Matt Smith, who she worked with in The Sarah Jane Adventures: "Matt's a joy to work with. It's an education to watch his beautifully realised physicality as the Doctor. I said to him, 'Jon Pertwee would be very proud of what you're doing with this character.'"
• Is anyone else a real sucker for those stitched-together 50th anniversary Who tributes that feature all eleven Doctors? What ALL of you? OK, here's our current favorite:
• We don't know anything about this clip except that it's from a YouTuber called Avril Dureault and it features a ballet dancer and some very, very familiar music indeed.
• Speaking of which, at the 2010 Glastonbury festival, Matt Smith joined the techno duo Orbital to help them perform their cover version of the Doctor Who theme, and in a recent interview with Digital Spy, Paul Hartnoll of the band explained how this came to pass. And apparently it starts with a fridge backstage at Coachella festival:
"I was approaching the fridge to go and get a beer, and I thought 'That bloke in front of me looks like Doctor Who'. We were only three episodes in [to series five] at this point. It was dark, and he opened the fridge and the light spilled out on to his face, and I thought 'F**k me, it is Doctor Who!'
"I tapped him, and I said, 'Excuse me, are you Doctor Who?'. He just turned round to me with the biggest grin and said, 'Well actually, yes I am'. That was just it. I said, 'Oh hello, my name's Paul Hartnoll from a band called Orbital'. He said 'Oh god, you're the band who did the theme tune! Oh my god we all talk about that on set, we love that, oh, that's brilliant!'
"We just had a beer together and a chat and he said 'Oh, I'd love to come on stage and introduce you one time'. Our lighting guy who was with us said, 'Why don't you come on at Glastonbury?' He sort of flipped out and said, 'Oh my god, I've never been to Glastonbury, that'd be brilliant'.
And then THIS happened:
• And while we're on the Doctor Who theme, here's the latest metal reworking, complete with skronky solos:
• Hats off to former Who producer Piers Wenger, who has just taken the role of Head of Drama at Channel 4 (and its sister channel E4, which is the UK home of The Big Bang Theory).
• This week's rogues in the Rogues Gallery are the Zygons, David Tennant's favorite monsters, and the alien race with the most gross feeding habit in all of Whovania.
• Oh and in case you've missed our newest Who series, we've been looking at the careers of the actors who have played the Doctor outisde of the TARDIS. Last week was William Hartnell's turn, and this week it's Patrick Troughton. Take a gander!
And to finish, let's go to a commerical, made by AtarahDerek for a graphics class. Pond's Fish Custard, we love you:
Read More
Filed Under: