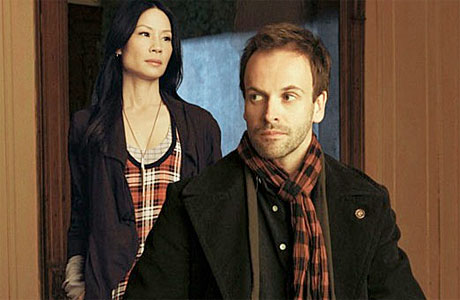 You might just think you're in England if you turn on your TV next fall. That's because the new 2012-13 TV schedule will be crammed with shows featuring British stars or based on UK programs.
That's what was revealed at last week's upfronts, the annual presentations by the major TV networks to advertisers and media in Manhattan. It's during these sessions that CBS, Fox, ABC and NBC introduce their new fall programming.
Here's an Anglocentric look at who'll be waving a Union Jack on new series on the big four major networks:
CBS
CBS, the highest rated of the networks, had to do the least fiddling with its schedule because it had the fewest problems to fix. It is only adding four new shows.
The biggest news at the network is Elementary, a seeming rip-off of Sherlock, the popular series starring Benedict Cumberbatch which airs on the BBC in the UK and PBS in the U.S. Elementary, a mystery show, will star Brit Jonny Lee Miller as a contemporary incarnation of Sherlock Holmes, this time called Holmes, who works for the New York Police Department. Lucy Liu will assist him as Watson in a skirt.
The other English star coming to CBS in a major role in a new show is Janet Montgomery, who will be playing an Italian-American Jersey girl turned fancy Manhattan lawyer in Made in Jersey. Montgomery previously starred in Entourage and Black Swan. (She'll also appear in BBC America's upcoming The Spies of Warsaw, co-starring David Tennant.)
Finally, Brit Lucy Davis, who played Dawn Tinsley on the British version of The Office, will have a supporting role in a new sitcom called Partners.
 FOX
Fox, which is in second place, isn't making that many changes other than adding – get ready – Britney Spears and Demi Lovato as judges on Brit Simon Cowell's The X-Factor.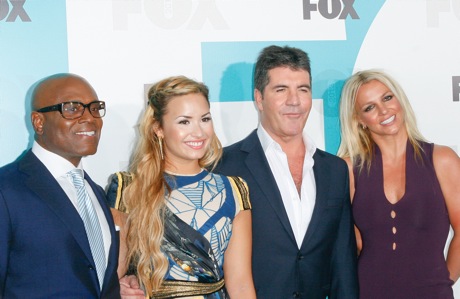 Boosting Fox's English quotient will be comic writer turned actor Ed Weeks (Olivia Lee: Dirty, Sexy, Funny). He's to be a sexy fellow doctor sharing a practice with an ob-gyn played by Mindy Kaling – best known for her work on the American version of The Office – on her new sitcom, The Mindy Project.
http://www.youtube.com/watch?v=56xeCUeKTVw
Additionally, hunkadelic James Purefoy (Rome) will be playing an especially nasty serial killer in The Following, a mid-season series. When Purefoy's character escapes from jail, the ex-FBI agent (Kevin Bacon) who captured him the first time around sets out to track him again.
http://www.youtube.com/watch?v=f8H4ewQzKFM&feature=relmfu
ABC
ABC, in third place, is packing ten new shows into its schedule next season. Of most interest to Anglophenia readers will be Mistresses, an Americanized version of the popular BBC series of the same name. Veteran TV actress Alyssa Milano will star.
http://www.youtube.com/watch?v=hvgSrfeXp2k
The network is also Americanizing White Van Man, the popular BBC sitcom about a family of handymen, which it has renamed The Family Tools. Kyle Bornheimer and J.K. Simmons star.
http://www.youtube.com/watch?v=oHPYnMUPYec
Other than that, English actors appear to be a rare breed on ABC's new shows (though there are a bevy of Australians). In the fall, Simon Templeman, best known for voicing video games, will appear on The Neighbors, a sitcom about aliens living in the suburbs. Carmen Ejogo (Chaos and Kidnapped) will be a regular in Zero Hour, a paranormal mystery series which stars ER's Anthony Edwards, while London-born Luke Goss will appear in Red Widow, a drama about a widow (Aussie Radha Mitchell) out to avenge the killing of her husband. Both shows are slotted as midseason replacements.
NBC
Ailing NBC, way back in fourth place with nothing going for it but Sunday night football and The Voice, is adding some dozen new shows to its schedule. In Hannibal, English heartthrob Hugh Dancy (Hysteria) will play a young FBI profiler who is mentored by Dr. Hannibal Lecter, unaware that his mentor is a serial killer. The series is due mid-season and there's no word yet on who will portray Lecter. London-born Eamonn Walker (Oz) will star in Chicago Fire, an action drama from Law & Order producer Dick Wolf about the staff at a fire house in the Windy City.
http://www.youtube.com/watch?v=bi3h9z1YUVc
And Lithuanian-born but London-trained Ruta Gedmintas (The Borgias and Spooks) will costar on Do No Harm, a medical thriller about a neurosurgeon (Rescue Me's Steven Pasquale) afflicted with a Jekyll-Hyde dual identity problem.
For more complete looks at all the new shows, click on each network: CBS , Fox, ABC and NBC.
——————————
Which of these shows has you excited?
——————————
Read More
Filed Under: