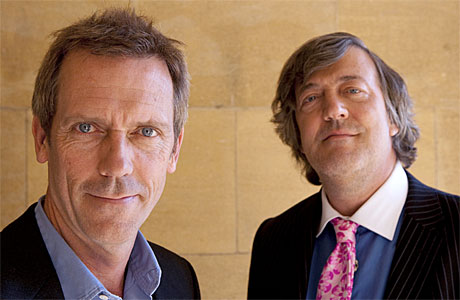 If your only experience of Stephen Fry and Hugh Laurie's astonishing comedic partnership is watching House and QI, or maybe the occasional Blackadder, you may not be aware that they still hold an astonishing amount of affection from the British public for their peerless sketch show A Bit Of Fry And Laurie, which ran from 1989 and 1995. They also collaborated on a damn-near perfect four series run of dramatised PG Wodehouse stories, Jeeves and Wooster, which only served to further glue them together in the minds of British TV fans.
So it is of no small import that Stephen Fry has tweeted this today:
"M'coll* Hugh Laurie and I are cooking up a project together. We will be working again soon. Sorry to be mysterious but more news when I can."
Oh. Em. Gee.
Here are five quick examples of their collaborative work, just to give you a flavor of their unique chemistry:
"A Great Big Bag Of Scum"
See that baby at the end of this sketch? That's Hugh Laurie's son.
Vox Pops
Every episode of A Bit Of… was peppered with these street interviews, from some alarmingly familiar faces (and a little bit NSFW).
Jeeves and Wooster
http://www.youtube.com/watch?v=9VGItt9cCgc
In which Hugh is the gadfly Wooster and Stephen his unflappable butler.
"Mr Burmie"
http://www.youtube.com/watch?v=znZuH2BU0FE
Stephen witters while Hugh burns.
Blackadder The Third
http://www.youtube.com/watch?v=itFSCO9CaPw
Observe just how astonishingly good at being hit Hugh Laurie is, and how adept Stephen is at doing the hitting.
*short for m'colleague, which is what they used to call each other a lot.
Read More
Filed Under: